Are you an aspiring film and video director? As creative film directors must be, your job application tools must bring out your passion in the film industry. This means your film director resume should put light on your goal to land the job. One way to write a stronger resume is to check out the film and video director resume example. Why? Read on and find out more.
What is a Film and Video Director?
Part of the film director's job description is to use their creative minds and artistic vision to turn scripts into reality. With this, some film director skills you should have are strong leadership, patience, and creativity. You must put these details in your resume to convince hiring managers you're fit for the job.
What Does a Film and Video Director Do?
As mentioned earlier, film and video directors are in charge of making the script into reality. They manage the creative aspect of the production. They are responsible for interpreting the piece, setting its tone, and direct actors and the camera. They also work with casting directors, sound directors, and editors to make sure that the whole production will reach its goals.
Film and Video Director Salary
In the United States, the median salary of film and video directors is $36.19 an hour. Salaries typically start from $17.25 per hour and go up to $75.91 per hour. In some cases, depending on experience, most film directors earn between $250,000 to $2 million per project. New directors typically earn between $250,000 to $500,000 per film, while studio film directors earn about $1 million per movie.
Effective Film and Video Director Resume Tips
What makes an effective resume example? Heed these signs of a great resume example:
Your profile should be concise.
List notable achievements.
Make sure to include key strengths and technical proficiencies.
Highlight your educational background and credentials.
Include related work experience.
Film and Video Director Resume Sample
What can you get out of reviewing film and video director resume examples?
Resume samples guide you on how your resume should look like;
Sample resumes let you compare various approaches in writing resumes; and
Resume examples show you what and what not to put in your resume.
Without further ado, check this film and video director resume sample and see how you should write your resume.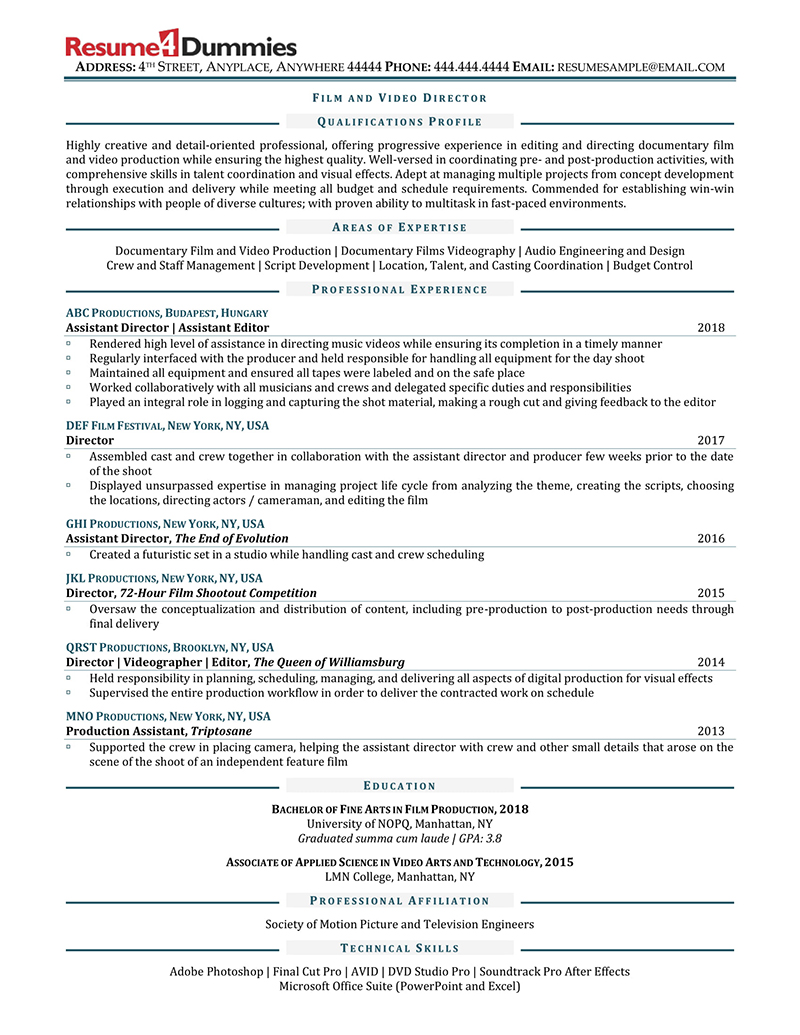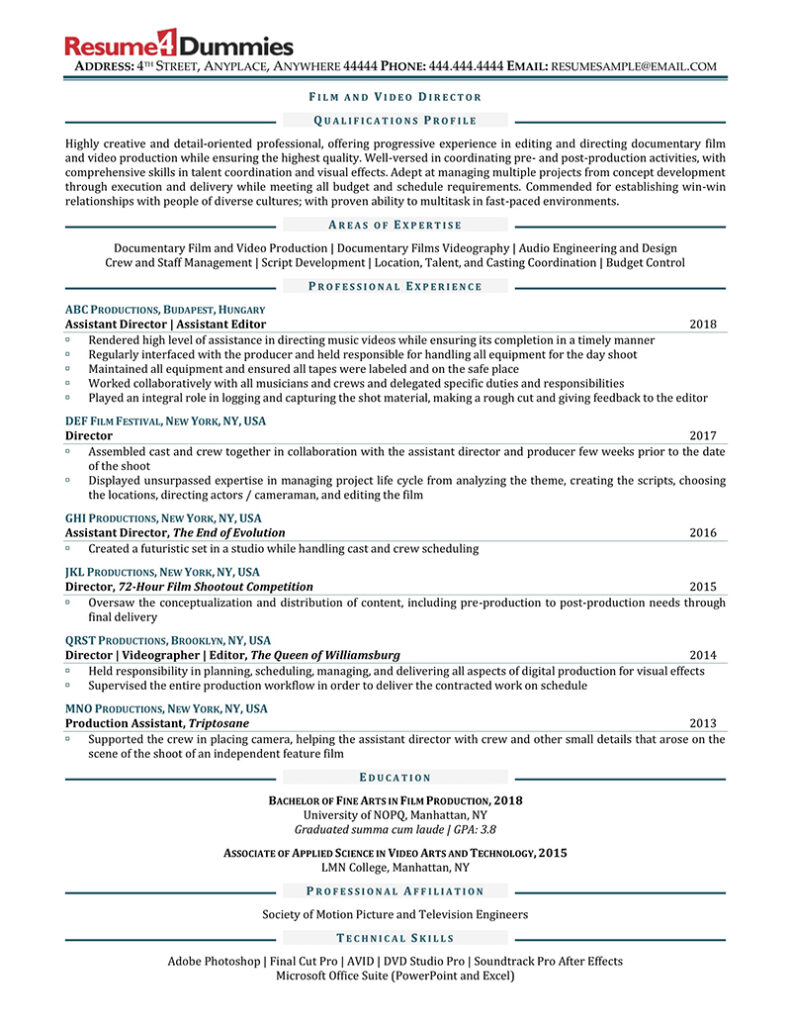 Download this film and video director resume sample now.
Last Check on Your Film and Video Director Resume
Before sending out your resume, do a final resume check through this list.
Make sure your resume contains your contact details.
Write a striking summary statement.
List your areas of expertise, skills, or core competencies to further prove why you're fit for the job.
Highlight your work history relevant to your target job.
Mention your achievements to serve as support for your work experiences.
Keep these signs of great film and video director resume sample in mind and apply them to your own. Doing so allows you to craft a better application tool to ace your job hunt game. However, if you need help to write your resume, see our professional resume writing services now or contact us today for more details.