Do you want to be an advocate of the environment? Are you passionate about helping the next generation to achieve their maximum potential? Why don't you pursue being an environmental educator?
If you're planning to take on the challenge of being in the academe, we are pleased to help you write your resume. Read on and get ready to revamp your environmental educator resume.
What is an Environmental Educator?
It's no secret that teaching is a noble job. This is because teachers have a great contribution to society as they build and mold the next generation in terms of knowledge, skills, and character. Moreover, being an environmental educator takes pride not just in teaching students but bringing environmental awareness.
Environmental educators usually teach primary to high school students about nature and environmental issues. Also, in some cases, they work with the local government and non-profit organizations to raise awareness and encourage people to take action in saving the environment.
What Does an Environmental Educator Do?
Environmental educators aren't confined in the four corners of the classroom. They aren't just responsible for teaching students about climate change and how to preserve the environment. They are also tasked to develop curricula, plan events, facilitate an immersion, and alike. Moreover, here's a list of common duties of environmental educators.
Research new approaches in protecting the environment.
Analyze data and come up with action plans.
Provide lessons to students and professionals.
Write resources to help educate people.
Create and establish protocols to avoid more environmental problems.
Environmental Educator Salary
As of June 30, 2021, the median salary of an environmental educator is $30,697 in a year in the US. According to ZipRecruiter.com, that is around $14.76 an hour. They even posted a record of as low as $16,500 to as high as $39,500 annually. Of course, this depends on the location and qualifications of the teacher. However, it's stated on their post that there's a low chance of having an increase in salary.
Effective Environmental Educator Resume Tips
To increase your chance of landing this job position, you need to strategically include relevant skills and experience on your resume. Aside from that, quantify your achievements. This is important because it gives the hiring manager the idea if you're right for the job. It would also be great if you would highlight your unique qualities. Doing so, sets you apart from other teacher applicants. To help you further, here are more tips to heed in writing an environmental educator resume.
Striking introduction. For your resume to be impactful, use keywords relevant to your target job position. Make sure it's short and direct.
Listed areas of expertise and skills. Include relevant skills and unique qualities on your resume. This helps you optimize your resume for the applicant tracking system (ATS) which most employers use to screen resumes.
Relevant professional experience. Write related work history the way employers can pinpoint the relevance of your experiences to what the job position requires.
Emphasized achievements. Highlight your achievements and qualifications as these help you stand out from the rest vying for the same job.
Environmental Educator Resume Sample
Writing a resume that impresses hiring managers could be a challenge. This is because you have to make sure that all your skills and qualifications are highlighted to stand out among the other candidates. But, worry not! Checkout how our expert writers wrote one to guide you in writing yours.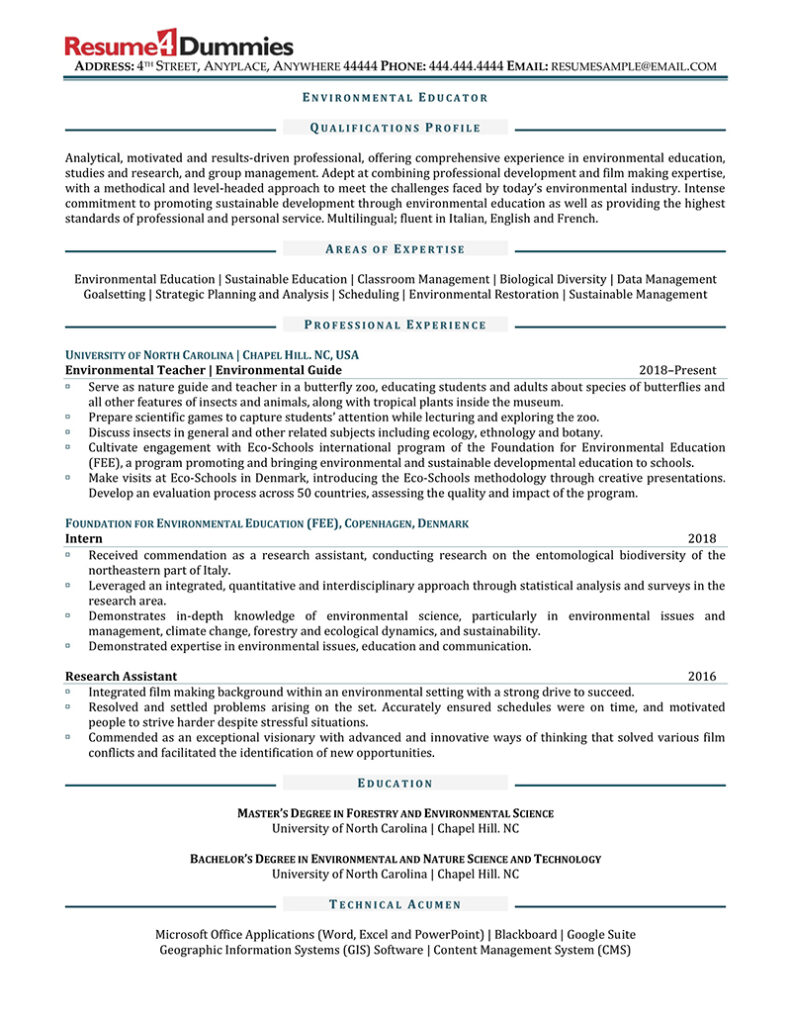 Download this environmental educator resume example now.
Last Check on Your Environmental Educator Resume
Before sending out your resume, do a final resume check through this list.
Make sure your resume contains your contact details.
Write a striking summary statement.
List your areas of expertise, skills, or core competencies to further prove why you're fit for the job.
Highlight your work history relevant to your target job.
Mention your achievements to serve as support for your work experiences.
Heeding these tips will help you get an interview invite. However, if you're still not confident that you could write an A + resume, you can use our resume builder to improve your tool. Also, if you want to avoid the hassle, it's better to ask for help from resume writing experts. Let us help you increase your chance of landing a job.