Are you practicing law but want to widen your work experience? Why don't you try passing on your knowledge and expertise to students taking up law courses? Nowadays, there's a demand for adjunct law professors. This is because college and post-graduate students have a high interest in subjects taught by professors who are practicing professionals. Thus, if you want to take this career opportunity, it's time to gear up your adjunct legal professor resume.
What is an Adjunct Legal Professor?
Adjunct legal professors teach at the university or law school. However, they don't have tenureship. Despite this, many are still pursuing this field because it's an opportunity to have better credentials. Plus, it's a good training ground for those who are new in the legal industry.
With the proper skills, knowledge, and qualifications, you can apply for this position. Of course, you need to gain a degree in law, pass the bar exam, and have experience working as an attorney. As mentioned earlier, it's an open door for you to climb the career ladder without letting go of your job as an attorney. Yes, you can continue to practice law while you work as a part-time professor.
What Does an Adjunct Legal Professor Do?
Knowing the responsibilities of an adjunct legal professor will guide you revamp your resume accordingly. You can include skills that you think would be a great help for you to effectively do the tasks given to you. Thus, we have listed some of the common duties of an adjunct legal professor.
Teach courses in law and hone the skills of your students.
Help develop a curriculum aligned to the law.
Perform and publish research papers.
Give advice to law students.
Adjunct Legal Professor Salary
As recorded by ZipRecruiter last July 2021, the median salary of an adjunct legal professor in the US is $65,371 a year. That is approximately $31.43 an hour. However, ZipRecruiter is forecasting an annual pay as high as $151,000 to as low as $13,500. With this increase and the opportunity to better credentials, the competition in this job position is getting fiercer. Many are now aiming to land this job. If you're one of them, you have to have a well-written resume to rise above other candidates.
Effective Adjunct Legal Professor Resume Tips
As previously stated, if you want to secure this job position, you need an effective adjunct legal professor resume. It isn't far from other industry resumes, however, your skills and credentials should be given the most emphasis. Aside from that, heed these tips to increase your chance of getting resume invites.
Striking introduction. A job-winning resume is rich with keywords related to your target job position. Make sure your introduction or summary section is short and direct.
Listed areas of expertise and skills. Include skills and unique qualities relevant to the job. This helps you optimize your resume for the applicant tracking system (ATS) which most employers use to screen resumes.
Relevant professional experience. Write work history the way employers can pinpoint the relevance of your experiences to what the job position requires.
Emphasized achievements. Highlight your achievements and qualifications as these help you stand out from the rest vying for the same job.
Adjunct Legal Professor Resume Sample
To land a job, you need a resume that can speak your work values and what you are capable of doing. Thus, it needs to reflect that you're the best fit for the job. To help you, we have selected the best adjunct legal professor resume to guide you in writing yours.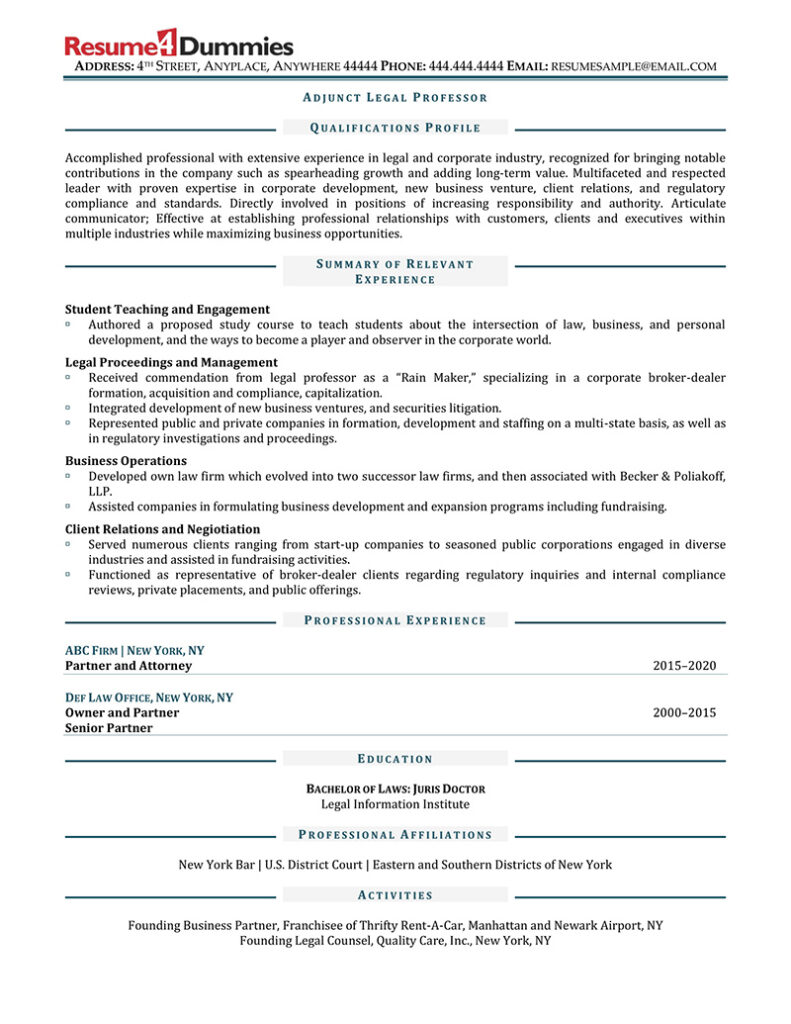 Download this adjunct legal professor resume sample now.
Last Check on Your Adjunct Legal Professor Resume
Before sending out your resume, do a final resume check through this list.
Make sure your resume contains your contact details.
Write a striking summary statement.
List your areas of expertise, skills, or core competencies to further prove why you're fit for the job.
Highlight your work history relevant to your target job.
Mention your achievements to serve as support for your work experiences.
Skills and experience are two most important factors that would get you a job. Thus, it's necessary that these are reflected on your resume. Failing to do so will be your downfall. To avoid this, let us help you. Use our resume builder to effectively write your tool or better yet hire our resume writing services.