Do you want a job that can offer you security, high pay, and pleasure while you help save lives? Get into the medical field! Behind the scrubs and check-ups are not just doctors and nurses. There's a professional that ensures the quality care of every patient—healthcare administrator. How do you become one? Study our healthcare administrator resume examples and job tips below to get you started, stat!
What is a Healthcare Administrator?
Administrators are responsible for planning, directing, and coordinating health-care services. They could be in charge of an entire hospital or facility, or of smaller clinical areas or departments within a hospital. Some administrators manage a small medical practice or a group of physicians.
What Does a Healthcare Administrator Do?
Healthcare administrators do not interact with patients on a daily basis, but they help in enforcing policies and implementing healthcare changes. Here are some of their responsibilities.
Lead and set the pace and mood of the hospital.
Handle possible outcomes to every action. As one of the decision-makers, you must discern which is best for the hospital, your staff, and the patients.
Converse with key hospital personnel.
Manage the client's/experience patient's with care.
Ensure all processes are in compliance with medical and legal regulations and internal policies
Healthcare Administrator Salary
In order to stand out among the crowds, you have to belong to the best applicants. However, the rewards of becoming one are worth all the hard work you're going to exert. This is because the average medical and health services managers salary is $104,280 per year.
Effective Healthcare Administrator Resume Tips
If you think the emergency room is where most split-second events happen; think again. It happens in the top office where the most life-changing decisions occur and affect the whole hospital. Hence, the healthcare manager must have the right skills to get the job done. Presenting them on your resume is important. Here are some tips to help you with your tool.
Qualifications Profile
As vital signs are essential in treating patients, this resume section is as vital as it gives the hiring manager your strengths at a glance. Your main goal is to convince them that you are an asset to the company. Here's a tip: Write this last. As you write your resume, gather your career feats. Write it as a preview of the impressive parts of your career. However, be careful and avoid making your healthcare resume summary statement longer than 5 lines.
Area of Expertise
Doctors have their specialties. Your job as a hospital administrator is to ensure their skills benefit the hospital. Hence, your future employer wants to find out if you can live up to the task. Prove them your worth using your areas of expertise. Like the summary profile, display here a list of what you do best. Do yours measure up with our healthcare administrator resume examples?
Professional Expertise
Patients have a medical history. It helps attendants find the root of the disease, or steer away with snags on the patients' health. In relation to this, hirers want to identify your previous job tasks and triumphs, and even past troubles. Here's your chance to flaunt your career highlights! Advertise your highs with quantified data. Use percentages, ratings, and amounts saved.
What if you have a healthcare administration resume with no experience? Shape up this part to display your know-how related to the job instead. Feature your transferable skills, so you can gain the hirer's trust. Or, better ask a career expert!
Education and Credentials
Are you new to the field? Boost this aspect of your entry-level healthcare administration resume. While any related courses may apply, applicants who belong to the nursing field commonly snag the post. Hence, make sure you have the basic licenses so you enjoy this edge. Others also possess a Master's Degree in Nursing to rack up their chances.
Healthcare Administrator Resume Sample
When a patient seeks medical help, what do doctors first check? They look at the current case. What do the vital signs say? Does the patient need urgent care? With this data, they form a basic diagnosis. They have to do it fast, as lives are on the line with their choice.
Likewise, a hiring manager would give your resume the same treatment. They will examine your resume, check for signs, then decide whether you fit the part. Hence, your healthcare management job resume should contain what they need. Since you want a managerial post and many lives are at stake, are you ready to prove you fit the bill? Check this resume sample as your guide.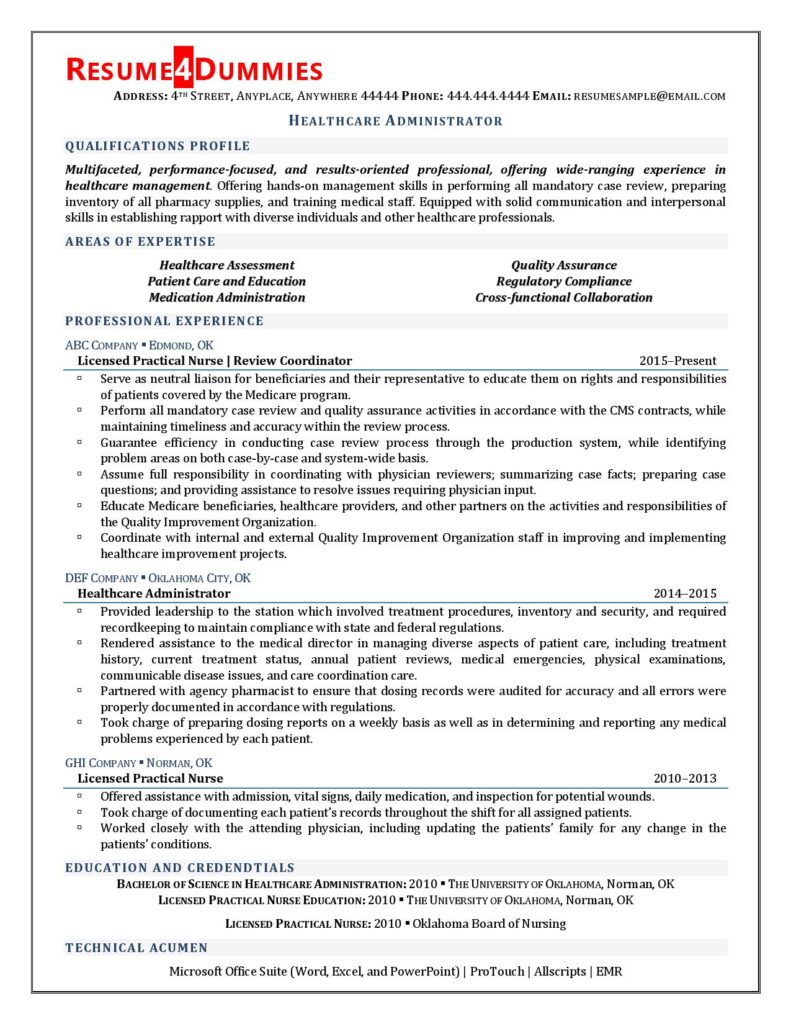 Last Check on Your Healthcare Administrator Resume
Before sending out your resume, do a final resume check through this list.
Make sure your resume contains your contact details.
Write a striking summary statement.
List your areas of expertise, skills, or core competencies to further prove why you're fit for the job.
Highlight your work history relevant to your target job.
Mention your achievements to serve as support for your work experiences.
Are you now more encouraged to pursue this job? Don't settle comparing healthcare administrator resume examples. Get as much help as you can. Seek help from our team at Resume4Dummies and get your best health resume service! We won't just kick-start your career; we'll help you win it.