Do you want to make a difference in the healthcare field by putting your leadership skills into action? A charge nurse role might just be for you! From performing the basic duties of a registered nurse (RN) to leading other nurses under your care, being a charge nurse sure is a feat and a fulfilling career on top of it all. If you're aiming to take your shot in this position and build your career, ensure a worthwhile job search by arming yourself with a well-written charge nurse resume.
In this guide, we'll walk you through some effective tips to guide you in writing yours as well as provide an ideal charge nurse resume example for you to see what it should look like.
What is a Charge Nurse?
To put it simply, charge nurses are RNs tasked with overseeing other nurses while also having the role of treating a limited number of patients. As per the US Bureau of Labor Statistics (BLS), the job outlook for RNs is expected to grow by 9% from 2020 to 2030, which is as fast as the average rate for all jobs. Furthermore, this growth is projected to maintain its pace as about 194,500 jobs will be open for RNs each year over this period.
As for the requirements for being a charge nurse, this role requires one to earn an RN license, meaning an aspiring charge nurse must have either a bachelor's or associate's degree in nursing. Also, additional training may help boost one's competitive edge when applying for such a role.
What Does a Charge Nurse Do?
Commonly, charge nurses perform a myriad of roles. If you land this post, you'll also have similar tasks such as the following:
Assess other nurses' performance
Guide and uplift other staff members
Complete admin tasks
Ensure patients receive quality care
Manage and schedule nurses
Work with doctors, medical teams, and other staff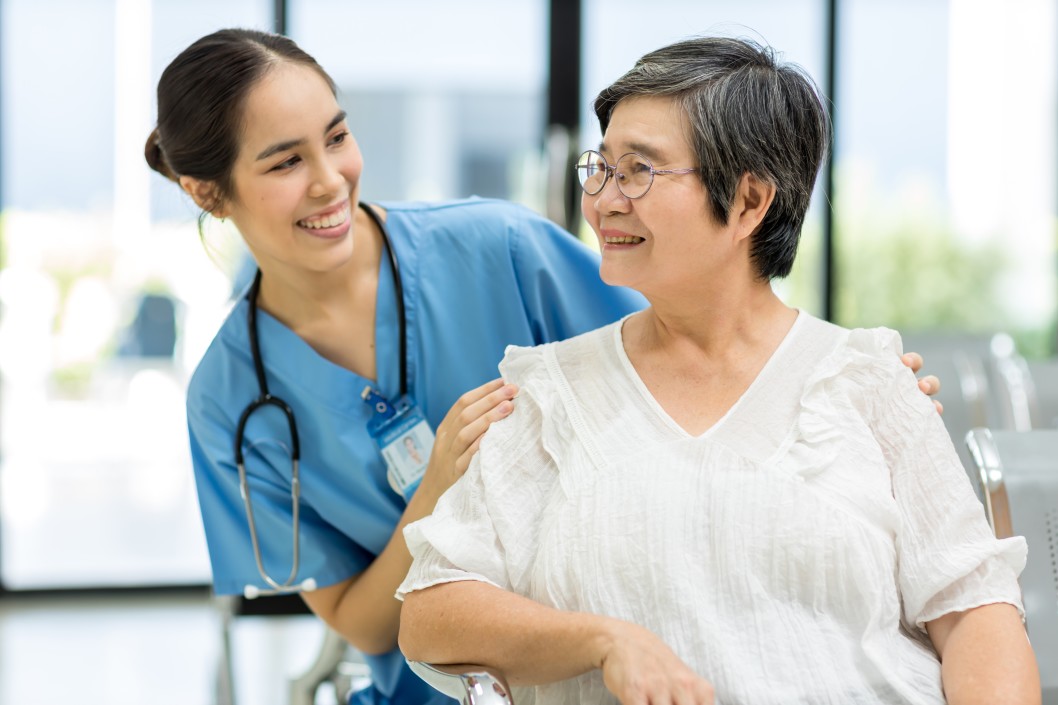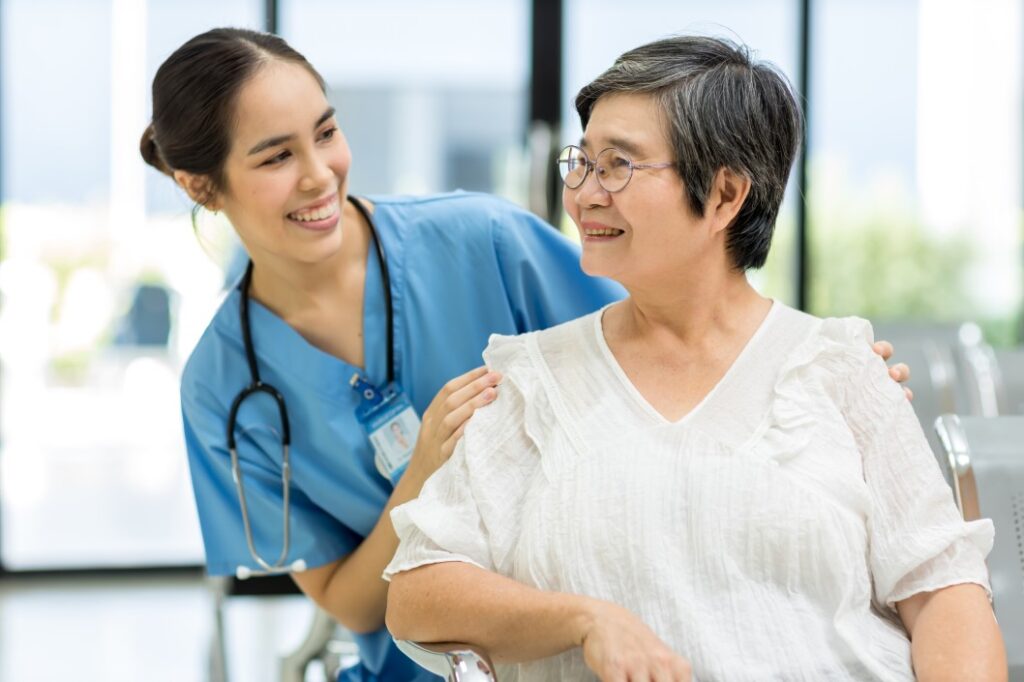 From some of the most common charge nurse duties alone, we can conclude how much of a specialized role it is. Hence, the expected skills they should have must help them perform better at their job. Having that said, here are their top skills:
Nursing work: Since charge nurses oversee other nurses, they should have a strong understanding of the most basic to advanced roles of an RN. Moreover, they must be able to support doctors and other members of the medical team.
Patient care and support: Good bedside manner and observation skills are vital to gauging and knowing what every patient needs.
Critical thinking: Apart from being able to spot patient needs and attend to them, charge nurses must also have the skill to make quick decisions based on careful assessment of a specific situation.
Leadership: As charge nurses are tasked with leading teams of nurses, they should be able to have good command skills and assign the right people to get things done. Moreover, charge nurses must have the initiative to direct people to where they should be when it comes to patient needs and demands.
Social skills and time management: Dealing with patients is a social duty, which means charge nurses must be able to work with various staff members and doctors toward supporting patient health outcomes.
Charge Nurse Salary
As stated by PayScale, RNs commonly earn an average of $76,622 a year. In detail, entry-level RNs with less than a year of key experience can expect to earn an average of $29.98 hourly. On the other hand, charge nurses with up to 4 years of experience typically earn about $31.29 per hour. Then, those with 5 to 9 years of work history have an average salary of $33.71 hourly. Lastly, those who have more than 10 years of experience have an average hourly compensation of $37.20 up to $39.
Effective Charge Nurse Resume Writing Tips
Now that the basics of being a charge nurse have been covered, how do you really write your resume? Here are our expert tips:
Put your updated contact details. Keep it professional, neat, and complete.
Highlight your top qualifications. Doing this helps your readers pinpoint why and how you're fit for the job. These include your degree and license, relevant experiences, and the inclusive years you spent at each company or employer, as well as your core feats as an aspiring charge nurse.
Craft a striking intro. Grab the attention of your readers by writing a strong summary statement for your charge nurse resume, rather than just opting for an objective statement. This way, your application stands out among other resumes that recruiters and hiring managers scan each day.
Mention your top skills. This is actually a good tactic to make your resume optimized for applicant tracking systems (ATS) that employers now use in screening resumes. Apart from that, this section is also helpful for recruiters to check if your background fits the charge nurse job description they're looking for.
List and describe your key professional experiences. Treat this section as the heart of your resume, as this is crucial in discussing the past roles you held and the relevant achievements you earned.
Charge Nurse Resume Sample
One of the best ways to craft your own job search tool is to use charge nurse resume examples as your trusty guide. Doing this helps you become more familiar with what an effective one looks like. Additionally, reviewing a resume sample is crucial for you to add certain sections and apply techniques to make your document more professional and targeted to the position you're vying for.
That said, check out the sample charge nurse resume below that you can refer to when crafting your own.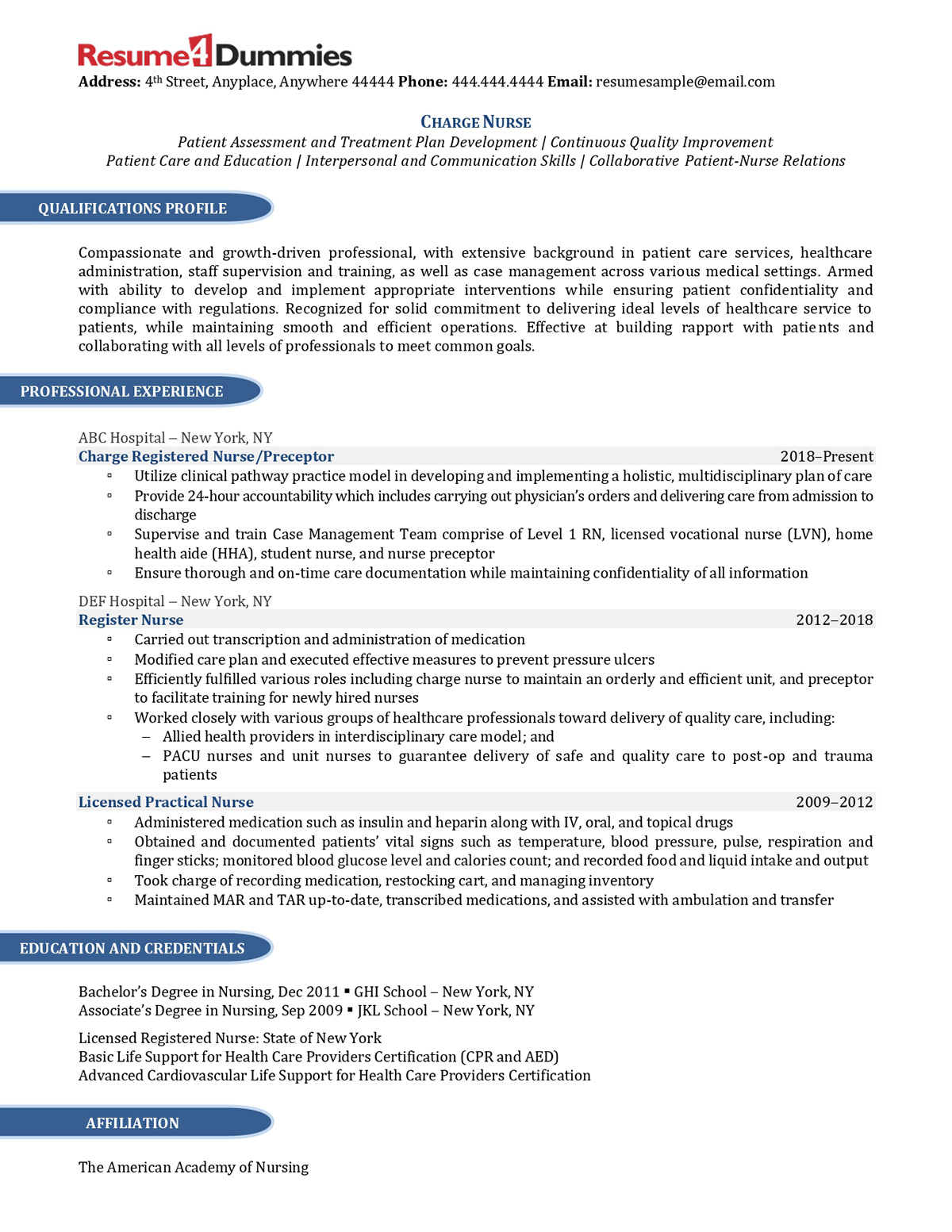 Download this charge nurse resume sample now.
Last Check on Your Charge Nurse Resume
As a pro tip, do a final check on your resume before sending it out. To guide you, here's a quick checklist:
Ensure your resume has your updated contact information.
Opt not to use a charge nurse resume objective as it's already obsolete and write a compelling summary statement instead.
Don't forget to list your top feats and skills to help provide a stronger context or support as to why you're the best fit for the role.
Put emphasis on your key work history.
Include the awards and achievements that you've earned throughout your career.
Elevate Your Career with a Job-Winning Charge Nurse Resume
Zooming in on your efforts to secure a charge nurse job, it's important for you to ensure that you don't just have the right skills and background. You must also take the necessary steps to put time and effort into crafting an effective job search tool that will help you get the attention of recruiters and hiring managers and convince them you're the best one to fill the job post.
Apply the best resume writing tips you learned in this guide using Resume4Dummies' resume builder! Or, if you need expert help in crafting your charge nurse resume, check out our resume writing services and let's work together! You may also contact us for more queries.