Working in both hospitality and retail industries, wine sales managers must not only possess advanced knowledge of wines but also strong sales skills. Aside from being passionate and interested in wines, they are primarily responsible for promoting wine brands to boost brand recognition and equity. In addition, they play an integral role in driving sales growth, meeting and exceeding company goals, and converting connections into business opportunities.
If you're planning to embark on a career as a wine sales manager, start with your resume first. Impress the hiring managers by crafting a job-winning resume that highlights your skills and qualifications. Check out our wine sales manager example, along with the tips on how to create one.
What is a Wine Sales Manager?
Just like any other sales managers, wine sales managers are also in charge of sales and marketing tasks with the primary goal of increasing wine sales and the market share of wineries. In order to achieve these, they must be equipped with wide-ranging experience in wine sales and distribution, knowledge of different wine brands and characteristics, as well as familiarity with wine pairing techniques. Not only that, the capability to conceptualize and execute effective sales and marketing strategies as well as establish and strengthen productive relationships with clients and vendors are also needed to become a good wine sales manager.
What Does a Wine Sales Manager Do?
While wine sales managers' key task is to promote and sell wines, they also fulfill a wide array of responsibilities. These include managing sales targets, customer service levels, and profits; facilitating wine deliveries for special events; as well as assessing market trends and determining business opportunities. Furthermore, they work closely with different teams and departments to ensure smooth operations. Wine sales managers also maintain active involvement in winery events, vendor meetings and presentations, and strategy planning meetings.
Wine Sales Manager Salary
The United States Bureau of Labor Statistics (BLS) states that in May 2020, the median annual wage for sales managers was $132,290 per year and $63.60 per hour. It also shows that the lowest 10% earned less than $63,170, and the highest 10% earned more than $208,000.
The median annual wages for sales managers vary depending on the industry, and the methods of compensation differ significantly with the type of organization and the products being sold. Sales managers in the finance and insurance fields were $163,630; professional, scientific, and technical services were $155,490; manufacturing was $139,340; and wholesale trade was $131,420. Meanwhile, the retail trade industry has the lowest median annual wage with $92,950.
Effective Wine Sales Manager Resume Tips
Are you planning to create your own resume? Level up your job search game by heeding these resume writing tips:
Write a striking introduction. For you to craft a powerful and attention-grabbing resume, write a wine sales manager resume summary statement instead of an objective. This makes your application stand out from the pile of resumes hiring managers review every day.
List down your areas of expertise and skills. Aside from being a handy list of your wine sales manager skills, this section helps you optimize your resume for the applicant tracking system (ATS) which most employers use to screen resumes.
Highlight your relevant professional experience. Detail your work history the way employers can pinpoint the relevance of your experiences to what the job position requires.
Emphasize your achievements. Note your wine sales manager achievements as these will help you stand out from the rest vying for the same job position.
Wine Sales Manager Resume Sample
Blow your competitors out of the water by creating an effective, interview-generating resume. Review our wine sales manager resume example as your guide.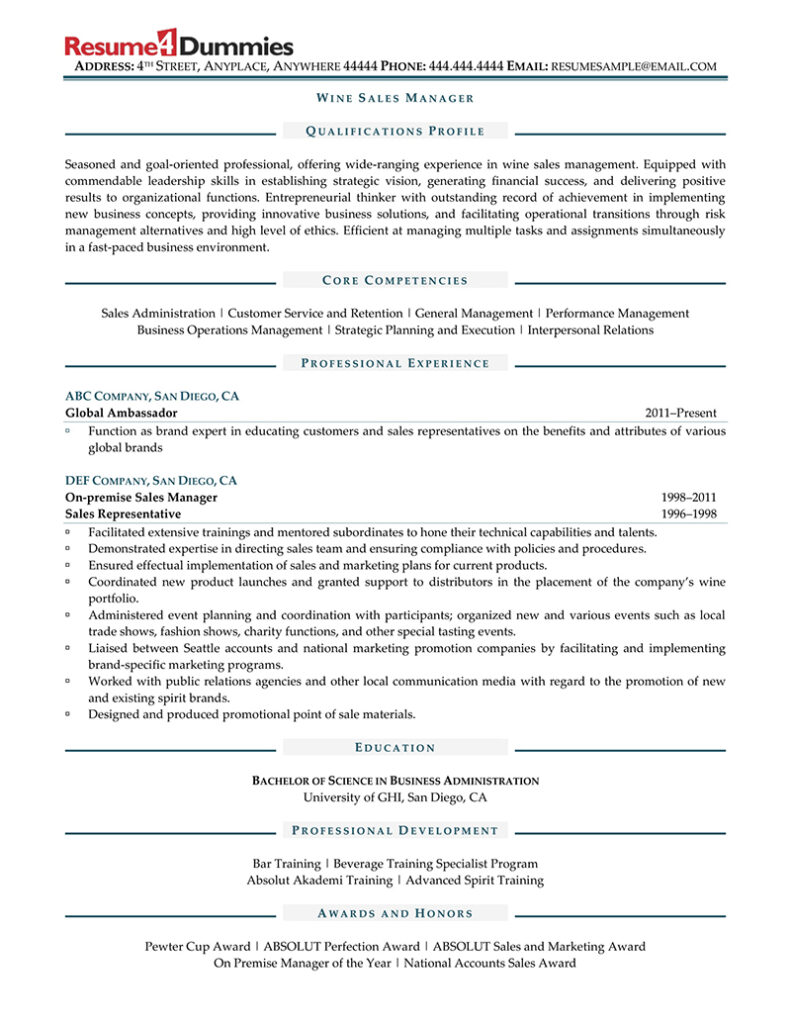 Download this wine sales manager resume sample now.
Last Check on Your Wine Sales Manager Resume
Before sending out your resume, do a final resume check through this list.
Make sure your resume contains your contact details.
Write a striking summary statement.
List your areas of expertise, skills, or core competencies to further prove why you're fit for the job.
Highlight your work history relevant to your target job.
Mention your achievements to serve as support for your work experiences.
After reading our resume writing tips, are you ready to create your own job application tool? You may use our free resume builder to get started. Resume4Dummies also provides the best resume writing services and the most helpful resume resources. Contact us now and we'll help you right away!