Are you working in the information technology (IT) industry, and planning to apply in the federal sector? Then you need to prepare a job-winning resume. Your experience with various programming languages and in-depth knowledge of diverse hardware and software should appear in your resume. Aside from this, your resume should be perfectly tailored to the specific federal job post. Before searching for the best federal government IT specialist resume examples online, you need to know further what the IT specialist does.
What is a Federal Government IT Specialist?
With the continuous growth of technology, the demand for tech-savvy professionals increases. So does the need for IT specialists. This became a vital job position, thus it's projected to grow more alongside the advancement of digital services. IT specialists are responsible for the implementation, monitoring, and maintenance of computer systems both software and hardware.
What Does a Federal Government IT Specialist Do?
What does IT specialist work involve? Generally, they operate, maintain, or even design tech products. In whatever sector they work in, their jobs are the same. These include software, hardware, databases, web resources, networks, and enterprise systems. For those taking on lead roles in this field, design systems and assess their effectiveness. And because tech is constantly evolving, IT specialists must advance their systems and cope up with the emerging trends.
Federal Government IT Specialist Salary
The typical federal government IT specialist salary is $108,090 per year. This is 106% higher than the average income of other industries. In some cases, depending on the qualifications, it can range from $69,009 to $135,365 per year.
Effective Federal Government IT Specialist Resume Tips
An effective resume is what it takes to get an interview invite. Thus, you have to make sure that your resume can market yourself. This is easier than done, especially if you're hoping to land a federal government job. To help you, here are some tips for writing a federal government IT specialist resume.
Place the job announcement number, series and grade, and all federal job post details on the top part of your resume.
Make sure your profile includes a summary of your skills related to the job.
Use relevant keywords and strong action words to highlight your area of expertise.
Don't forget to include your credentials, especially those related to the IT industry.
Federal Government IT Specialist Resume Sample
To secure a federal government IT specialist job, you must double your effort in your job hunt. Employers in the federal sector look for the best candidates. In order to impress them in the first few seconds of the initial screening, you should make a great resume.
Want to know how you can write these tasks on your resume? Check out the best federal government IT specialist resume sample below.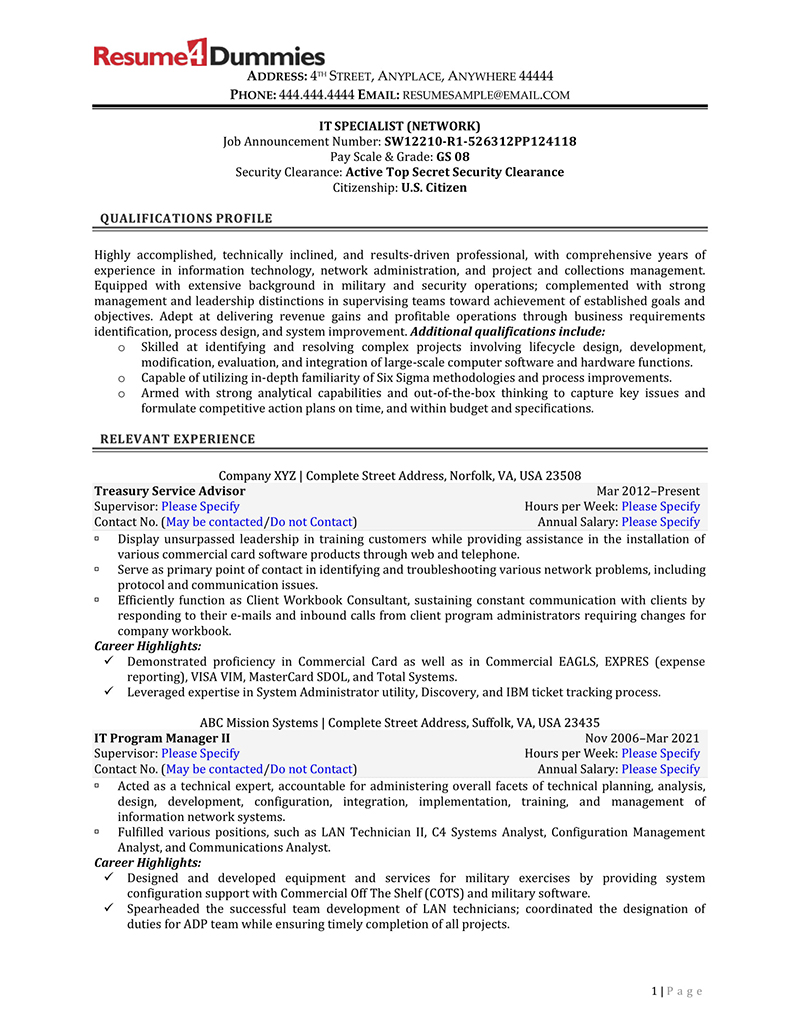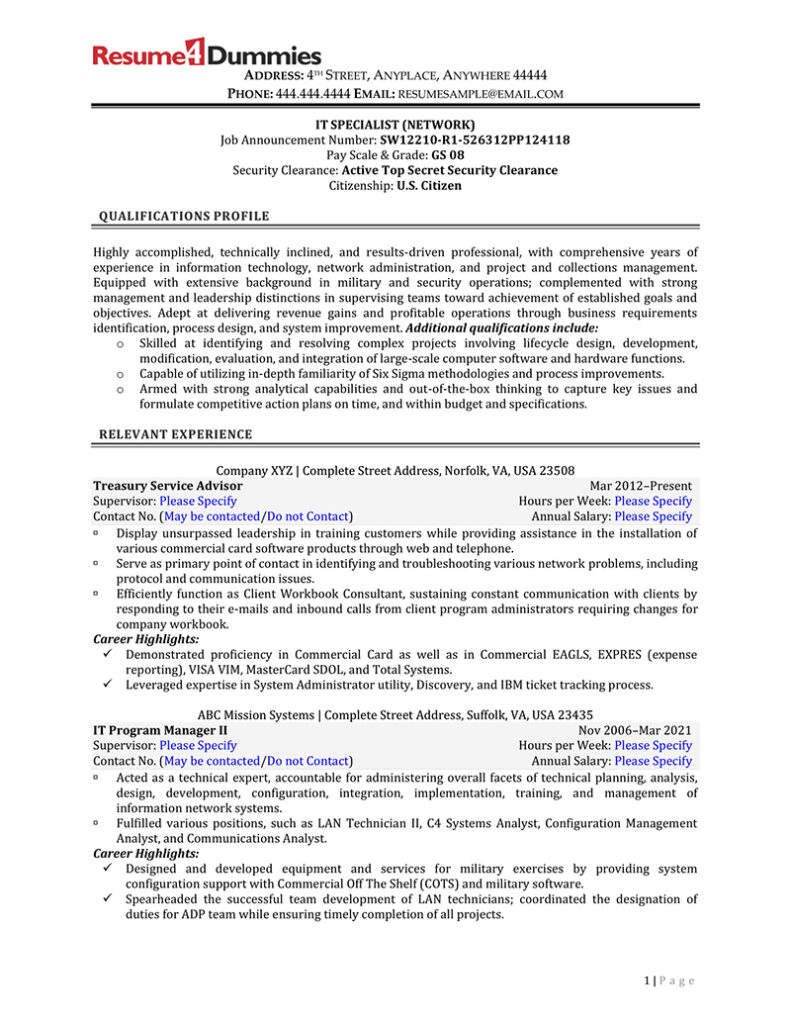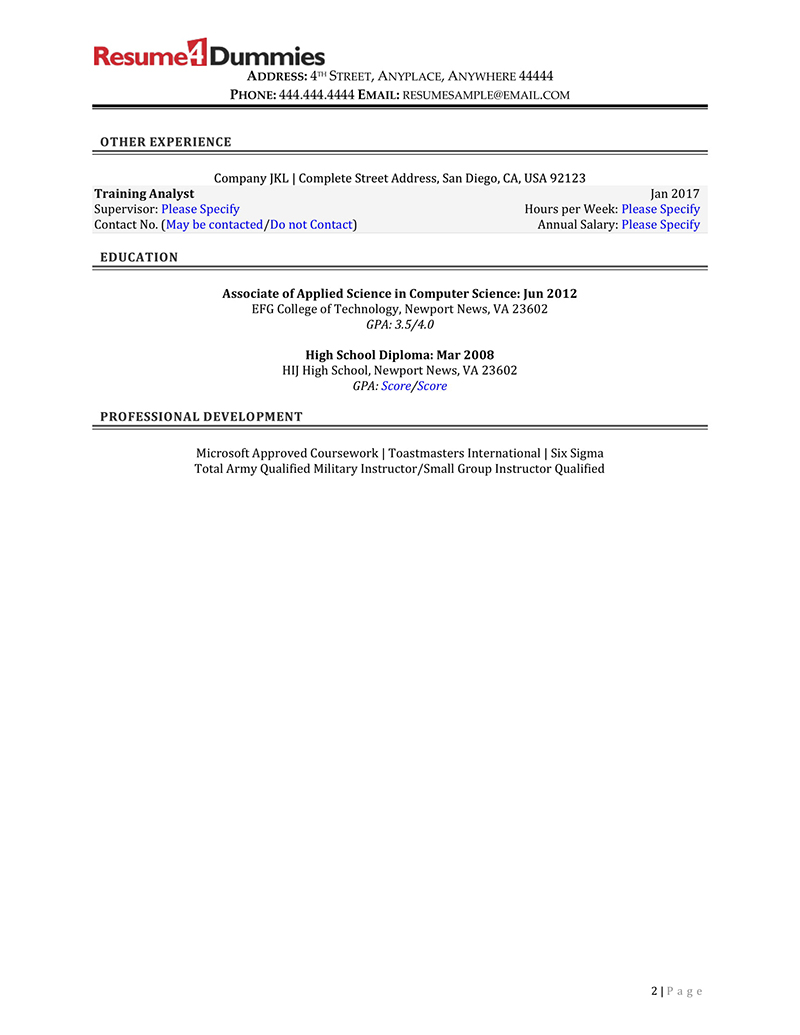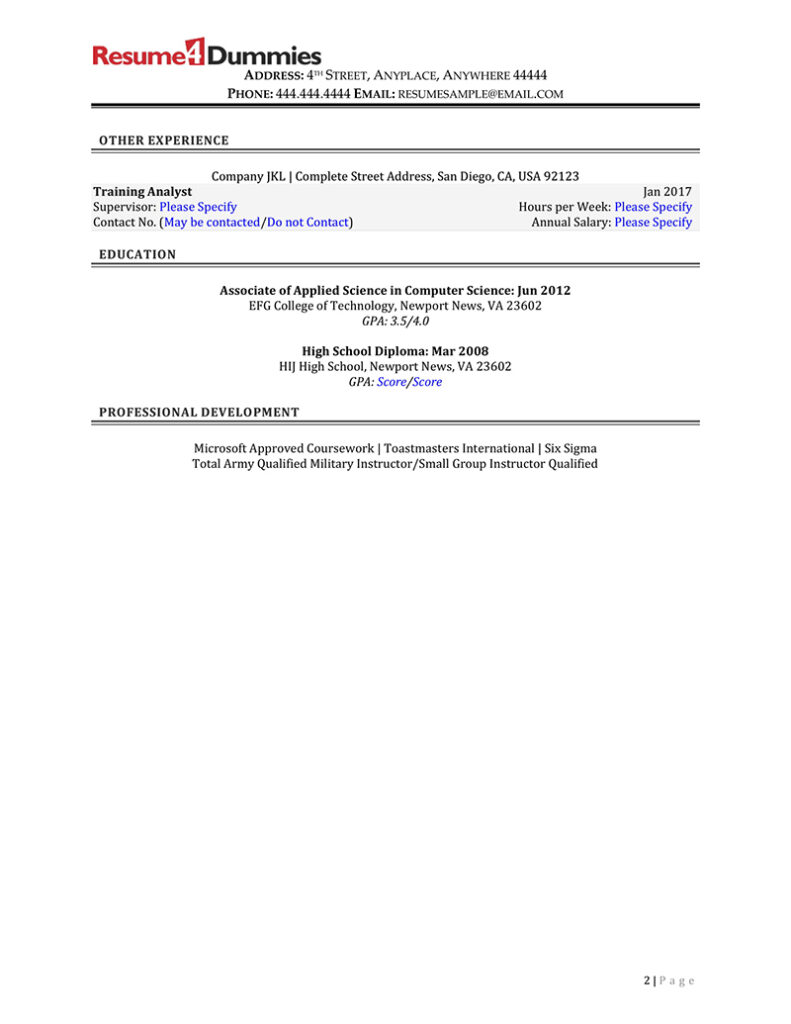 Download this IT specialist resume sample now.
Last Check on Your Federal Government IT Specialist Resume
Before sending out your resume, do a final resume check through this list.
Make sure your resume contains your contact details.
Write a striking summary statement.
List your areas of expertise, skills, or core competencies to further prove why you're fit for the job.
Highlight your work history relevant to your target job.
Mention your achievements to serve as support for your work experiences.
Above all, know that you can ace your job hunt. Review the best federal government IT specialist resume examples above and you'll surely land the job. Use our resume builder to ease your writing. Do you need help in writing your resume? Call us and we'll help you right away. Our expert resume writers build the most notable resume in the business. Check out our best resume writing services now.