Do you have ample years of experience in the US army? How about the heart to serve your country? Consider applying as a first sergeant. This is quite a big role to fill, and many are aiming for this position. But don't worry. With your skills, relevant experience, and a well-written resume—everything is achievable. Communicate your qualifications through your first sergeant resume. So, check out our first sergeant resume examples and our resume writing tips to guide you.
What is a First Sergeant?
The job of a first sergeant carries big responsibility and authority. Known as the heart and soul of the U.S. Armed Forces, first sergeants serve as the senior noncommissioned officer (NCO) of the army. They are the primary liaison between the commander and the platoon sergeants. So, their main duty is to receive orders from the company commander and distribute these to the platoon sergeants.
What Does a First Sergeant Do?
Aside from what was mentioned earlier, there are other duties first sergeants should know how to do effectively. First sergeants play an important role in the success of the Armed Forces. They serve the country by preparing the army to be of good service. They do this by disciplining and training cadets to reach their potential. They also conduct company formations, execute drills and ceremonies.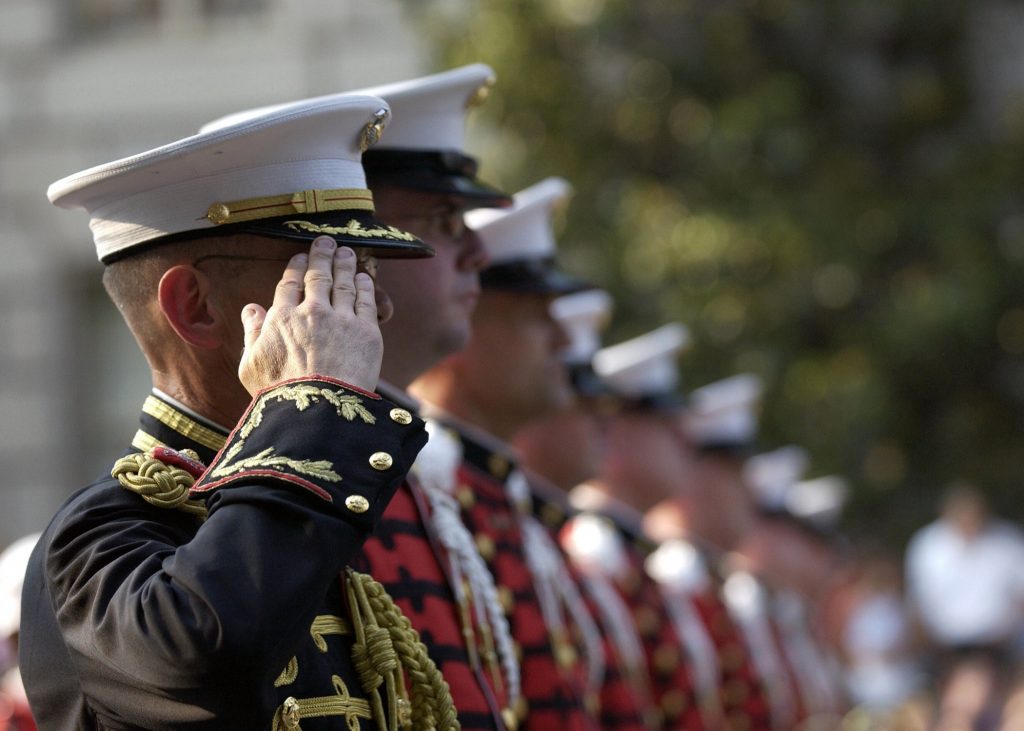 First Sergeant Salary
According to FederalPay.org, a first sergeant's monthly base pay ranges from $4,136.10 to $5,898.90. Their drill pay costs $137.87 per drill if their paygrade is E-8. Want to know yours? Use the Military Pay Calculator.
Effective First Sergeant Resume Tips
Your experience matters in writing your job search tool. To help you write a job-winning resume, heed these tips.
Write a noticeable and keyword-filled summary.
Capture the employer's attention in just 6 seconds. Do this by placing the summary section on top of your resume. Sell your most impressive qualities and experiences here. Also, itemize the career highlights to ease the reading.
Highlight your work experience.
Since this job requires years of experience, your resume should show it effectively. If you don't have a work history gap, use the chronological resume type. This way, your employer will see your career progress. Just don't forget to use power verbs!
List your training and awards.
Entice your employers by writing your training and awards. This will spice up your resume. It will also improve your credentials. This will show your passion in your line of work and your love to serve the country—which is a plus!
First Sergeant Resume Sample
It takes a well-written resume to land a job. If you wish to win this job post, you have to make sure that your tool can interest recruiters. To help you, we have prepared one of the best first sergeant resume samples.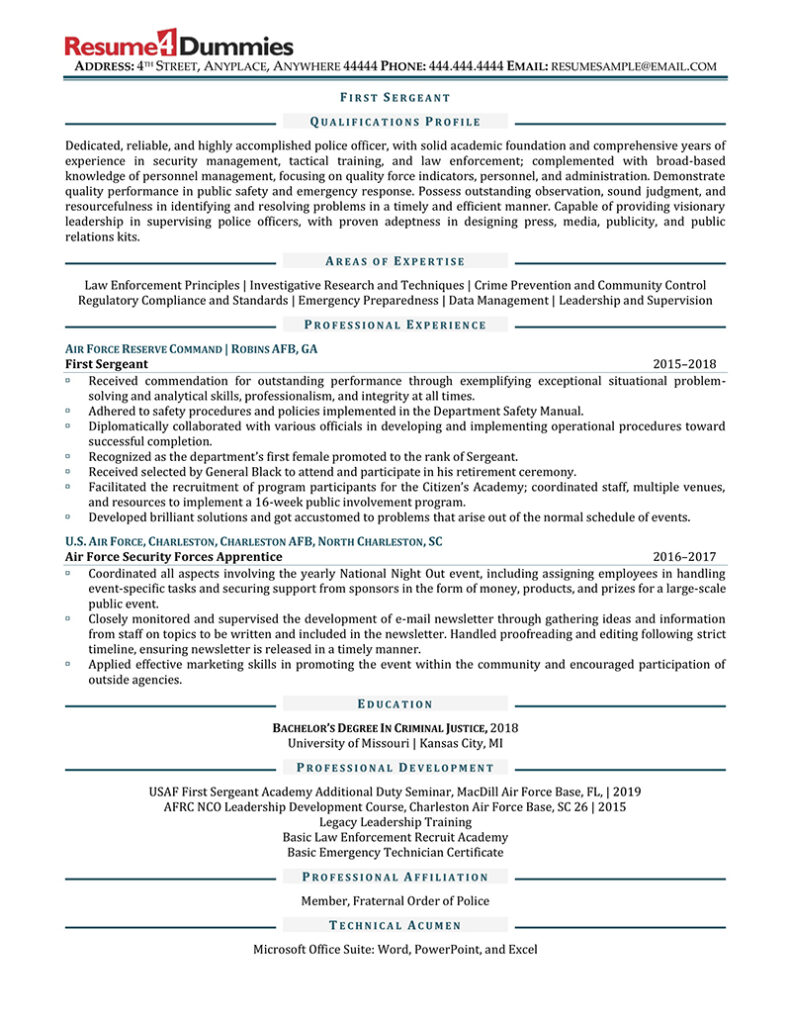 Download this first sergeant resume example now.
Last Check on Your First Sergeant Resume
Before sending out your resume, do a final resume check through this list.
Make sure your resume contains your contact details.
Write a striking summary statement.
List your areas of expertise, skills, or core competencies to further prove why you're fit for the job.
Highlight your work history relevant to your target job.
Mention your achievements to serve as support for your work experiences.
Finally, do you want to secure this job post? Write your resume through our first sergeant resume examples and tips. Resum4Dummies has a resume builder for newbies. We also have more resume templates to further guide you. Need your resume right away? Seek help from the experts. Hire our best resume writing services which help job seekers receive callbacks. Read our career tips as you prepare for your interview. Call us now for more details.