Doing what you love while still being in control of your time and workload is a way to go for some people. Good thing there are many opportunities for professionals who prefer this setup. They are called freelancers.
Having a freelance job is common these days, especially in the field of arts. If you're one of the artists who want to explore this side of the business, you need to prepare a resume that will impress your clients. With that said, we have here the best freelance artist resume to help you write yours.
What is a Freelance Artist?
To be able to write an effective resume, you need to know what's expected of you. So, the question is: What is a freelance artist? A freelance artist is someone who works in creative projects such as illustration, design, photography, and other fields related to arts.
Freelance artists are employed not as a regular employee, but hired to do projects for a company or another person. They are basically paid for their talents, number of projects, and hours used to finish one. Some freelance artists are self-employed, while others are part of a group.
What Does a Freelance Artist Do?
The main responsibility of freelance artists is to deliver the project with excellence and efficiency. Thus, they need to be skilled, patient, and highly flexible. Moreover, these should be highlighted on your resume and backed up with your portfolio.
Another thing you need to remember is freelancers aren't confined to an 8:00 to 5:00 job. They have the freedom to work with their schedule given that they will submit the expected output on time.
Freelance Artist Salary
The salary of a freelance artist depends on the number of projects done. However, ZipRecruiter recorded a median salary of $53,362 a year in the US. That's around $25.65 an hour. ZipRecruiter also identified 10 cities where most freelancers get a higher pay rate. According to their list, Richmond, California offers the highest salary to freelance artists. Stamford, Connecticut ranked second followed by Bellevue, Washington. In light of this, you might want to also consider the location after your skills.
Effective Freelance Artist Resume Tips
Being equipped with necessary tools is important to get a gig. However, it's no secret that it will always boil down to your skills and what you can bring to the table. Thus, you need these skills to be reflected on your resume. To help you, here are some of the tips to heed in order to write an effective freelance artist resume.
Striking introduction. A job-winning resume is rich with keywords related to your target job position. Make sure your introduction or summary section is short and direct.
Listed areas of expertise and skills. Include skills and unique qualities relevant to the job. This helps you optimize your resume for the applicant tracking system (ATS) which most employers use to screen resumes.
Relevant professional experience. Write work history the way employers can pinpoint the relevance of your experiences to what the job position requires.
Emphasized achievements. Highlight your achievements and qualifications as these help you stand out from the rest vying for the same job.
Freelance Artist Resume Sample
After following the tips previously mentioned, it would be great to learn the proper format, style, and some techniques to write a job-winning resume. Well, guess what? We asked one of our professional resume writers to write a freelance artist resume to guide you with yours.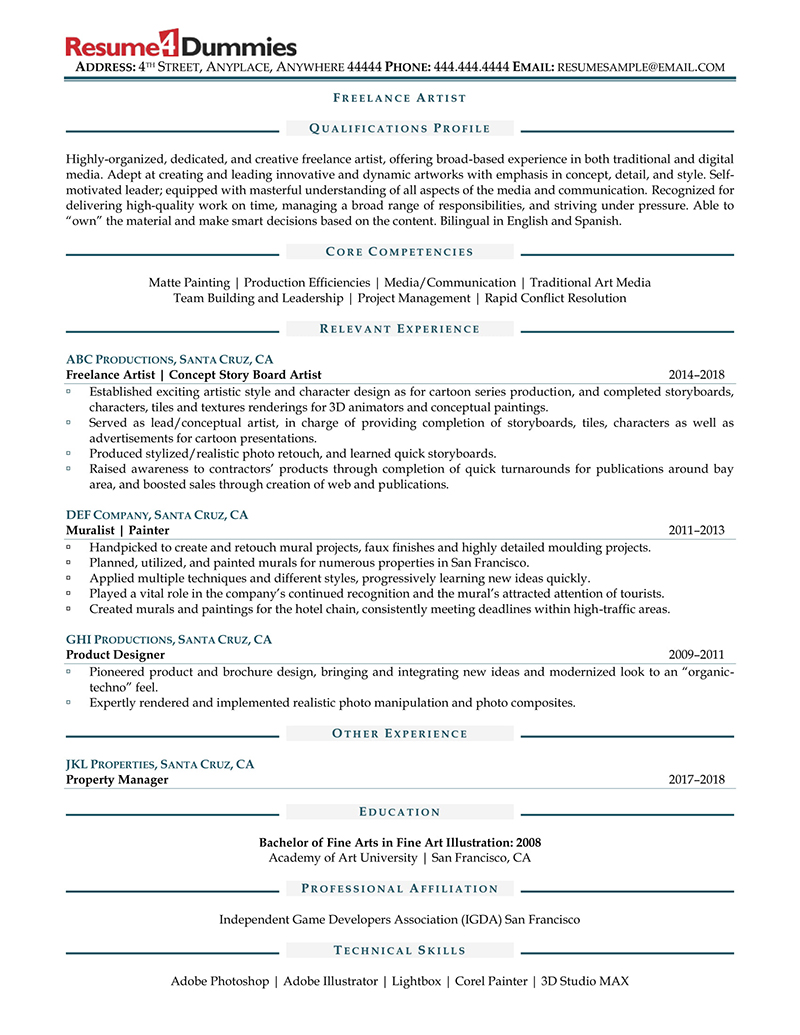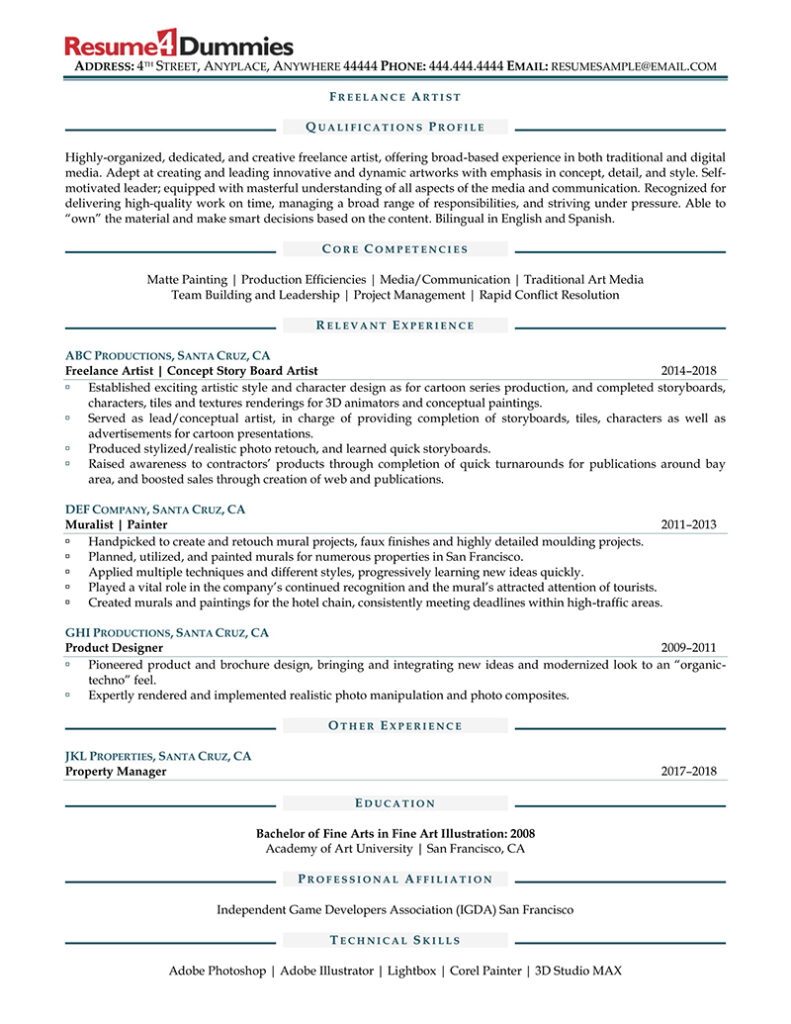 Download this freelance artist resume sample now.
Last Check on Your Freelance Artist Resume
Before sending out your resume, do a final resume check through this list.
Make sure your resume contains your contact details.
Write a striking summary statement.
List your areas of expertise, skills, or core competencies to further prove why you're fit for the job.
Highlight your work history relevant to your target job.
Mention your achievements to serve as support for your work experiences.
It takes skills to write a job-winning resume. Good thing there are a lot of templates online that you can use to write your tool. You don't need to look further, because we got your back. We have free templates that you can use. Plus, we have resume writing services to lift the burden on your shoulders. Our writers are trained and equipped in writing targeted resumes that will surely get you hired. Contact us now.