Do you want to be a senior graphic designer? Well, it's not impossible. Just keep in mind that a great resume is your best weapon to pass the first phase of the job hunt—resume screening. One way to create a resume is by reviewing senior graphic designer resume examples. Apart from their rich keywords, these samples are also optimized for this job post.
What is a Senior Graphic Designer?
A senior graphic designer leads and supervises a team of creatives. They also have the authority in the decision-making over intermediate and junior designers who create concepts and layouts. Plus, they are responsible for overseeing concept planning of designs to delivering outputs.
What Does a Senior Graphic Designer Do?
The role of a senior designer is more of a management position. Thus, if you want this position, you need to be skilled and knowledgeable about graphic designs and tools, marketing, and supervisory-related tasks. Aside from those, here are some common duties of a senior graphic designer.
Conceptualizing designs based on the requirements
Developing solutions and communicating them to clients and team members
Delegating design roles and assisting junior members of the design team
Ensuring that all designs pass the high-quality standards before sending them to clients
Promoting collaboration around the enterprise to raise digital creativity levels
Senior Graphic Designer Salary
According to data recorded by Payscale ast May 6, 2021, the median salary of a senior graphic designer is $62,673. That is around $25.25 per hour. Some companies offer salaries ranging from $45,000 to $87,000. This depends on the applicant's qualifications, credentials, and work experience.
Effective Senior Graphic Designer Resume Tips
If you want to land a job, you have to make sure to send a well-written resume to your potential employers. Here are some tips to write an effective senior graphic designer' resume.
Write your profile summary with the goal of enticing readers.
Highlight relevant skills by using powerful keywords.
Tailor your qualifications and experience to the job description.
The career overview section of your resume should have power verbs.
Don't forget to include people skills because as mentioned earlier this position is more focused on managerial tasks rather than creating designs.
Senior Graphic Designer Resume Sample
Being a senior graphic designer requires competencies in different core tasks. Thus, your resume should showcase your skills, both hard and soft skills. Your career highlights should be evident in your tool. To guide you, check out this senior graphic designer resume.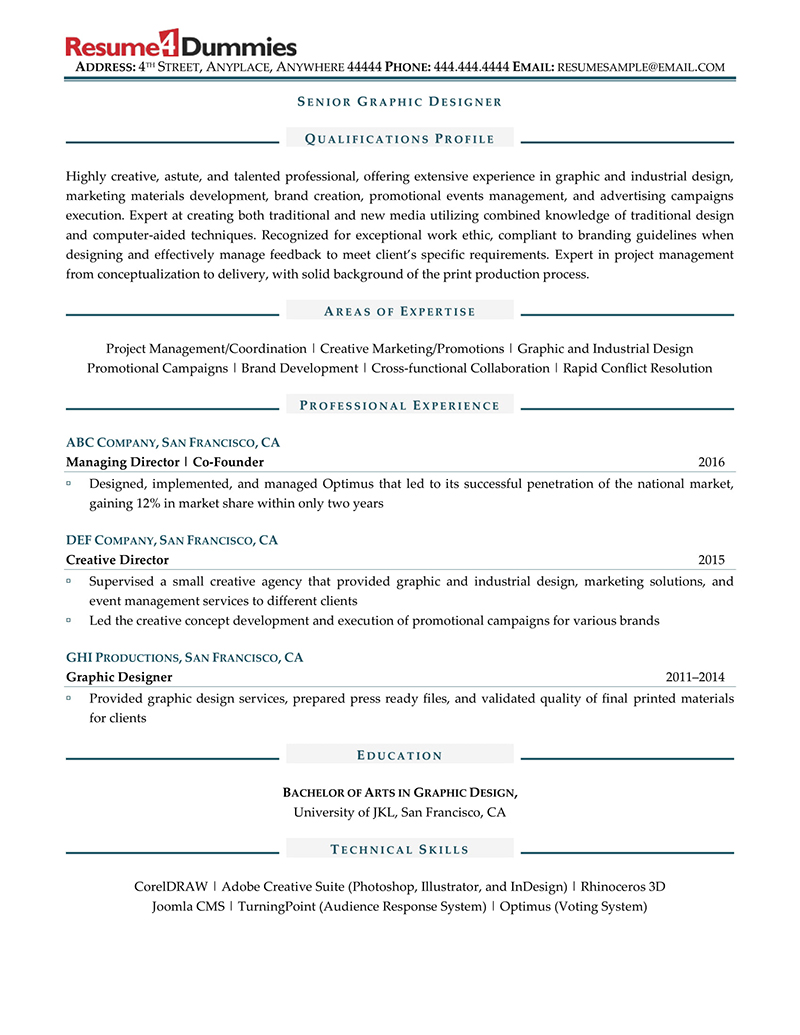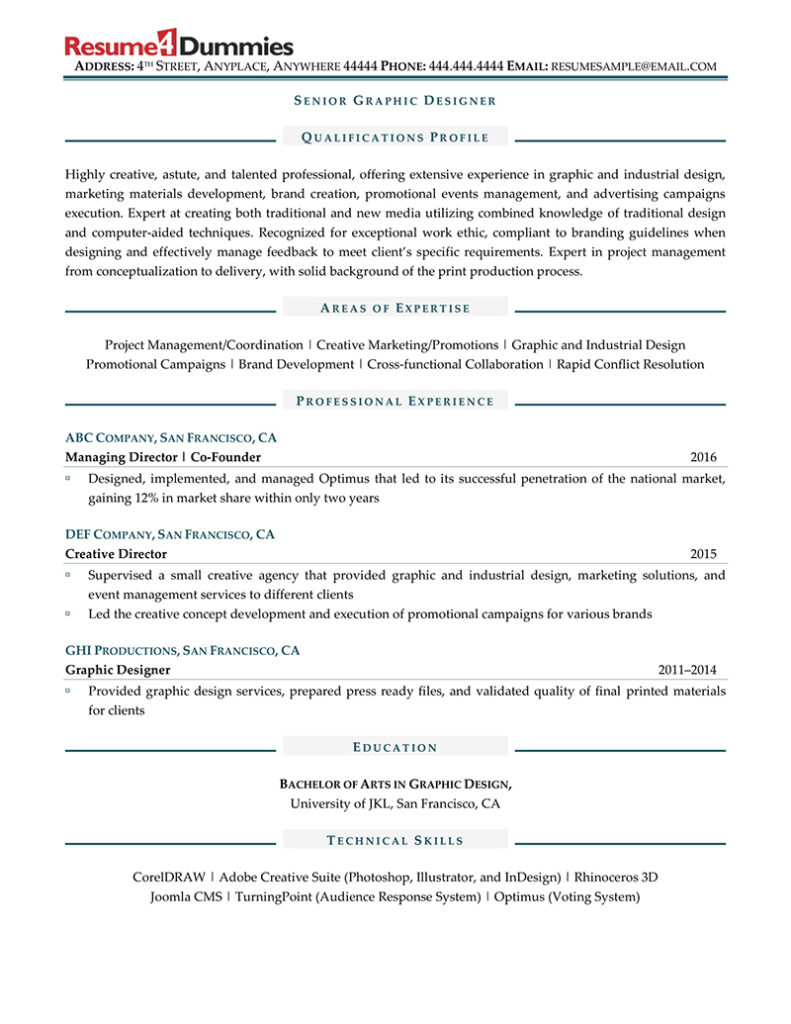 Download this senior graphic designer resume sample now.
Last Check on Your Senior Graphic Designer Resume
Before sending out your resume, do a final resume check through this list.
Make sure your resume contains your contact details.
Write a striking summary statement.
List your areas of expertise, skills, or core competencies to further prove why you're fit for the job.
Highlight your work history relevant to your target job.
Mention your achievements to serve as support for your work experiences.
Finally, you can begin writing your resume. Use what you learned from this article and use the senior graphic designer resume sample as your guide. But if you're still not confident in crafting yours? Check out our best resume writing services.