Do you know who keeps us cool during summer and warm during winter? These people work in the heating, ventilation, and air conditioning (HVAC) industry. More so, these skilled workers are in demand both in residential and commercial structures. HVAC automation technician maintains and repairs HVAC systems. If you want to enter this field, you should highlight your skills and expertise in your resume. Thus, review our HVAC automation technician resume example and we'll show you how.
What is an HVAC Automation Technician?
HVAC automation technicians install, repair, and maintain computer-based control systems. These systems monitor and control the mechanical and electrical equipment of HVAC units. Part of the HVAC automation technician job description is coordinating with customers, engineers, and contractors to ensure quality service.
What Does an HVAC Automation Technician Do?
Aside from installing, repairing, and maintaining computer-based control systems, here are other responsibilities of an HVAC automation technician.
Fix basic wiring and controls.
Install panels and connect them to the HVAC system.
Set up programmable logic controllers.
Track all work and time in CMMS.
Maintain sensors, thermostats, controllers, valves, actuators, and other HVAC control-related equipment.
HVAC Automation Technician Salary
As for their pay, the average HVAC technician salary is $22.98. Some companies offer their HVAC technicians a salary ranging from $18 to $27 per hour.
Effective HVAC Automation Technician Resume Tips
Before you become an HVAC technician, you need to have the skills and experience. Apart from this, you must be an expert in automation systems. But how will you show these to your employer? Through your HVAC resume. Read on and heed our tips before you write your resume.
Write an impressive and keyword-filled summary.
Capture the employer's attention in just 6 seconds. Do this by placing the summary section on top of your resume. Sell your most impressive qualities and experiences here. Also, itemize the career highlights to ease the reading.
Highlight your skills and work experience.
Since this job requires skills and years of experience, your resume should show it effectively. If you don't have a work history gap, use the chronological resume type. This way, your employer will see your career progress. Just don't forget to use power verbs!
List your training and awards.
Entice your employers by writing your training and awards. This will spice up your resume. It will also improve your credentials. This will show your passion in your line of work—which is a plus!
HVAC Automation Technician Resume Sample
Apart from skills and experiences, HVAC jobs require a relevant degree or certificate from a technical college. Hence, your HVAC technician resume should show these. Can't wait to land this job? Create your resume through our resume sample.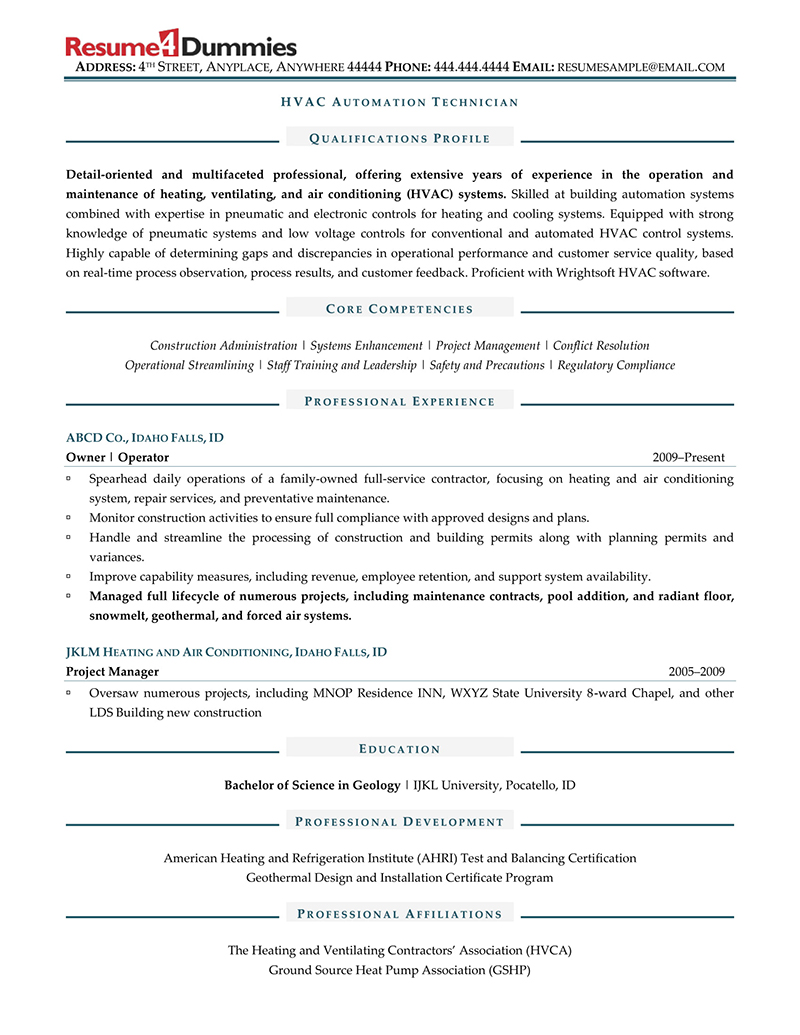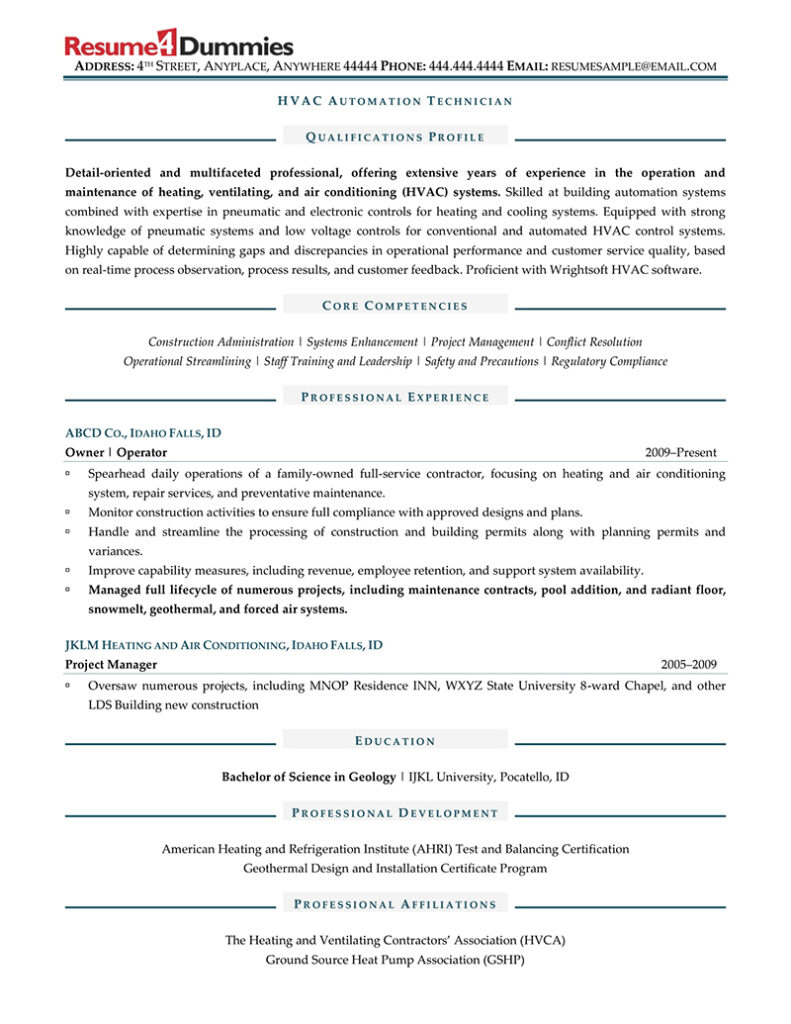 Download this HVAC automation technician resume sample now.
Last Check on Your HVAC Automation Technician Resume
Before sending out your resume, do a final resume check through this list.
Make sure your resume contains your contact details.
Write a striking summary statement.
List your areas of expertise, skills, or core competencies to further prove why you're fit for the job.
Highlight your work history relevant to your target job.
Mention your achievements to serve as support for your work experiences.
What are you waiting for? Secure this job post through our HVAC automation technician resume example and tips. Resume4Dummies has a resume builder to aid you in writing your resume fast. We also have more resume templates to further guide you. Need your resume soon? Seek help from the experts. Hire our best resume writing services which help job seekers receive callbacks. Read our career tips as you prepare for your interview. Call us now for more details.
---