Even in the days of force-on-force doctrine, when intelligence operations were simpler than they are today, Collection Management (CM) has long been regarded as the scourge of every intelligence officer's existence.
What is an ISR Collection Manager?
The Intelligence, Surveillance, and Reconnaissance (ISR) Intelligence collection manager serves as a leader of a unique team supporting the Joint Improvised Threat Defeat Organization (JIDO). Moreover, the ISR collection manager is accountable for providing on-site support to JIDO J2 leadership in submitting requirements to the appropriate Intelligence Community (IC) agencies for Human Intelligence (HUMINT) collection, Signals Intelligence (SIGINT) collection, and other intelligence collection.
What Does an ISR Collection Manager Do?
The role of ISR collection manager involves supporting the research of organizational or Intelligence Community (IC) priorities and guidance to align collection requests with priorities, and balances time sensitive requests with standing collection requirements to ensure appropriate deployment of ISR assets.
Aside from that, they play a key part in translating received requirements into discipline-specific language in accordance with appropriate guidance. They also ensure that the requirements address the need of the requestor and overcome potential gaps in collection.
ISR Collection Manager Salary
The ISR manager interacts with analysts to evaluate intelligence requirements, identify and design feasible collection postures and methods, and translate intelligence requirements into collection requirements. Hence, they play a major role in the agency they work at. If you are interested in this career, the national average salary for an ISR Collection Manager is $115,444 in the United States.
Effective ISR Collection Manager Resume Tips
Put the best feature first. In resume lingo, this means that the top third of your CV should feature your best experiences and accomplishments. This is the first portion that the hiring manager will view, and it will function as a hook to entice someone to continue reading. As a result, prioritize your greatest, most relevant experiences.
In order to stand out among the rest of the competition, think of your layout. But what is the most fundamental rule of resume formatting and design? Keep it simple. Use Helvetica, Arial, or Cambria as a simple but modern typeface. Use a font size of 10 to 12 and leave plenty of white space on the page to make your resume easy to read for hiring managers.
ISR Collection Manager Resume Sample
So now you know the must-haves in making a resume. For this purpose, here's one of our ISR collection manager resume examples to guide you. Also, this has great keywords that will help you get the job.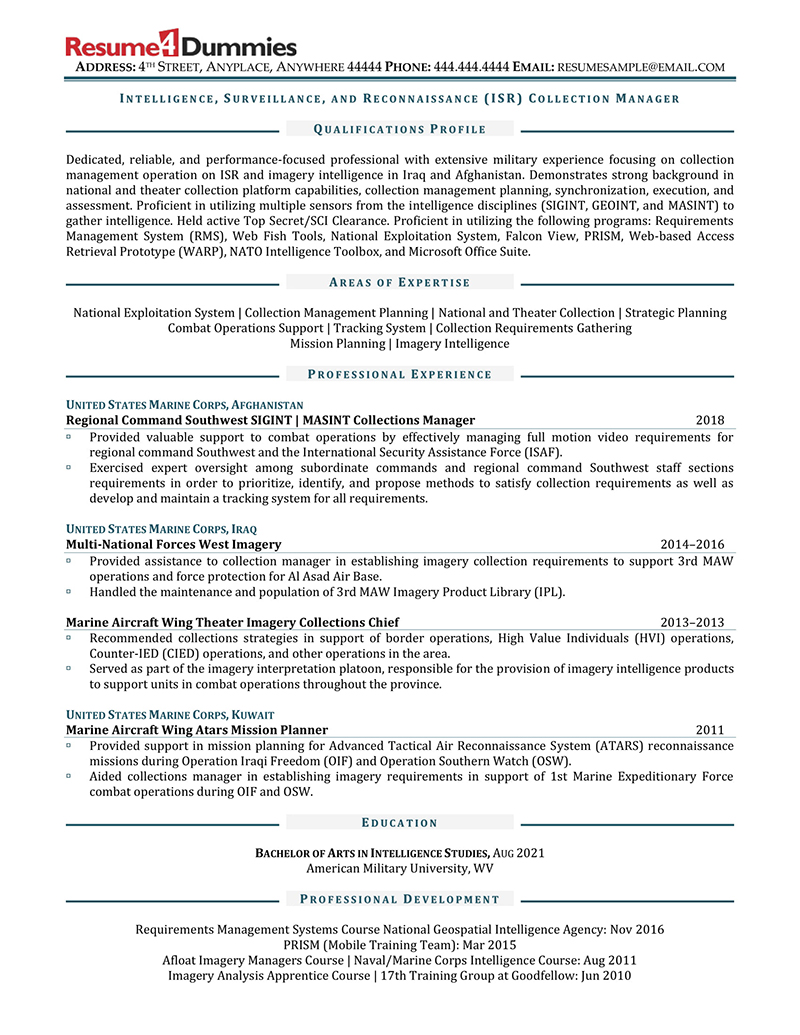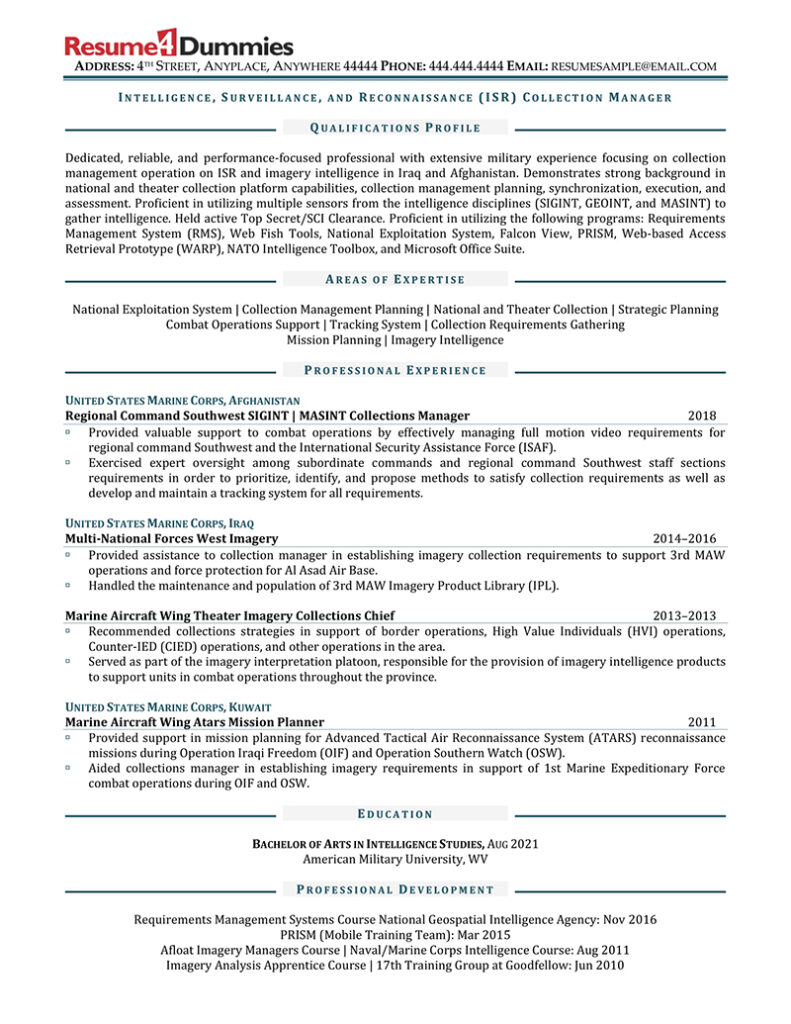 Download this ISR collection manager resume example now.
Last Check on Your ISR Collection Manager Resume
Before sending out your resume, do a final resume check through this list.
Make sure your resume contains your contact details.
Write a striking summary statement.
List your areas of expertise, skills, or core competencies to further prove why you're fit for the job.
Highlight your work history relevant to your target job.
Mention your achievements to serve as support for your work experiences.
You are on for a big challenge now. Start building your resume for an ISR collections manager. Don't know where to begin? Resume4Dummies is here to help. We provide the best resume writing services and the most helpful resume resources. You can also use our Resume Builder to revamp your resume. Contact us now and we'll help you right away!