Land development is the process of bringing improvement to a piece of land in order to raise its value. It's a big role that can't be done by anyone, but for those professionals who give time and energy in learning about land development, they find their purpose with this job. Are you one of those aspiring professionals who wants to work as a land development consultant? You're in the right place! Read on, and advance your career with this resume example.
What is a Land Development Consultant?
Land development consultants give suggestions and recommendations to developers. This is important because they give advice regarding law requirements, utilities, public safety, price, and the entire process that you need to know about. They also provide consultancy services to people intending to develop their land. A land development consultant also works in one of the following fields: land surveying, resource management/planning consultation, civil engineering, or a combination of these.
What Does a Land Development Consultant Do?
A land development consultant can assist you in reducing your risks and increasing your profits. When it comes to land use and development strategies, a consultant can assist you in navigating the issues that may occur due to legislation, environmental concerns, neighbors, and other elements that affect costs and profits. Furthermore, here's a list of responsibilities of a land development consultant.
Preparing resources consent applications under the Resource Management Act 1991
Supervise the preparation of a development program and a concept plan
Preparing budgets for capital and operating expenses.
Assist with zoning and other development approvals
Prepare financing applications and negotiate terms
Coordination of a suitable procurement strategy and a construction contract
Land Development Consultant Salary
The salary for a land development consultant depends on the location, skill level and years of experience. According to ZipRecruiter, the average salary of a land development consultant is $69,537 per annum, that's approximately $33.43 per hour. Not bad? Well, this job can earn as high as $146,000 and as low as $19,500 per year. Big factor affecting the salary amount is the city, so better choose the place you will work with.
Effective Land Development Consultant Resume Tips
If you want to advance to an interview and showcase your skills, you have to make sure to send a compelling resume to your potential employers. Here are some tips to write an effective land development consultant' resume.
Write your profile summary with the intention of attracting readers..
Use powerful keywords to highlight relevant skills.
Match your skills and experience to the job description.
The career overview section of your resume should have power verbs.
Land Development Consultant Resume Sample
Being a land development consultant requires skills and wide knowledge about properties, finances and legal aspects regarding land and properties. But aside from that, you also need to focus and highlight relevant skills to your resume. To sort it up, check out this land development consultant resume sample that can help you ace your job search.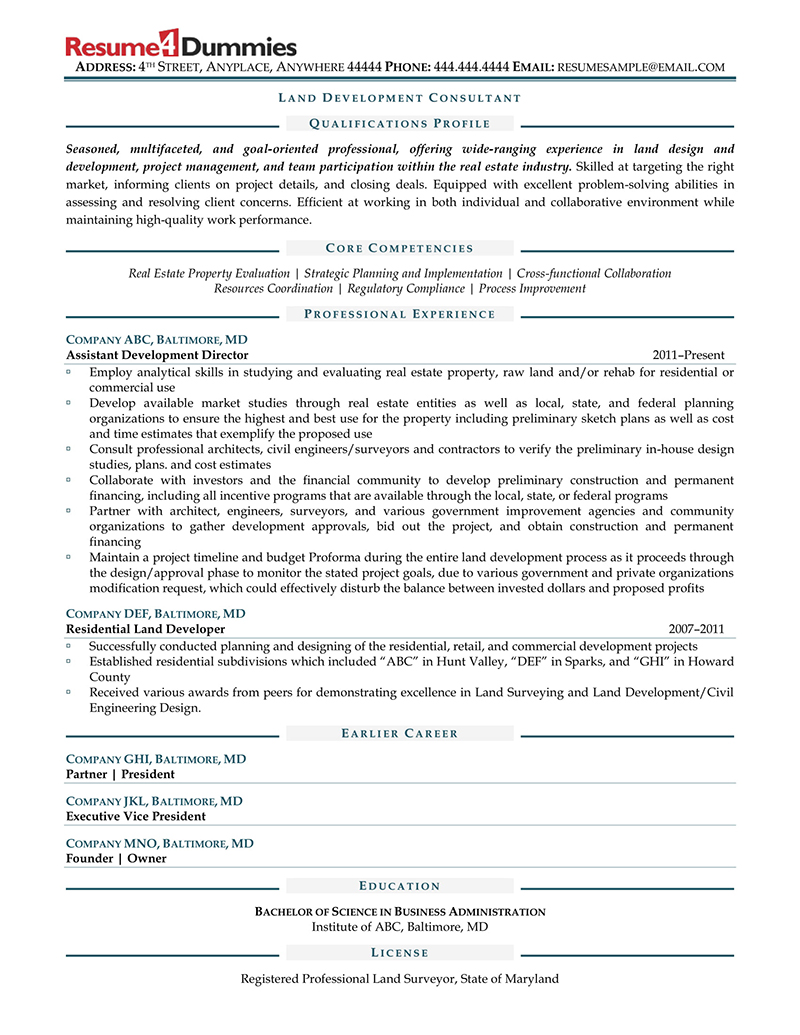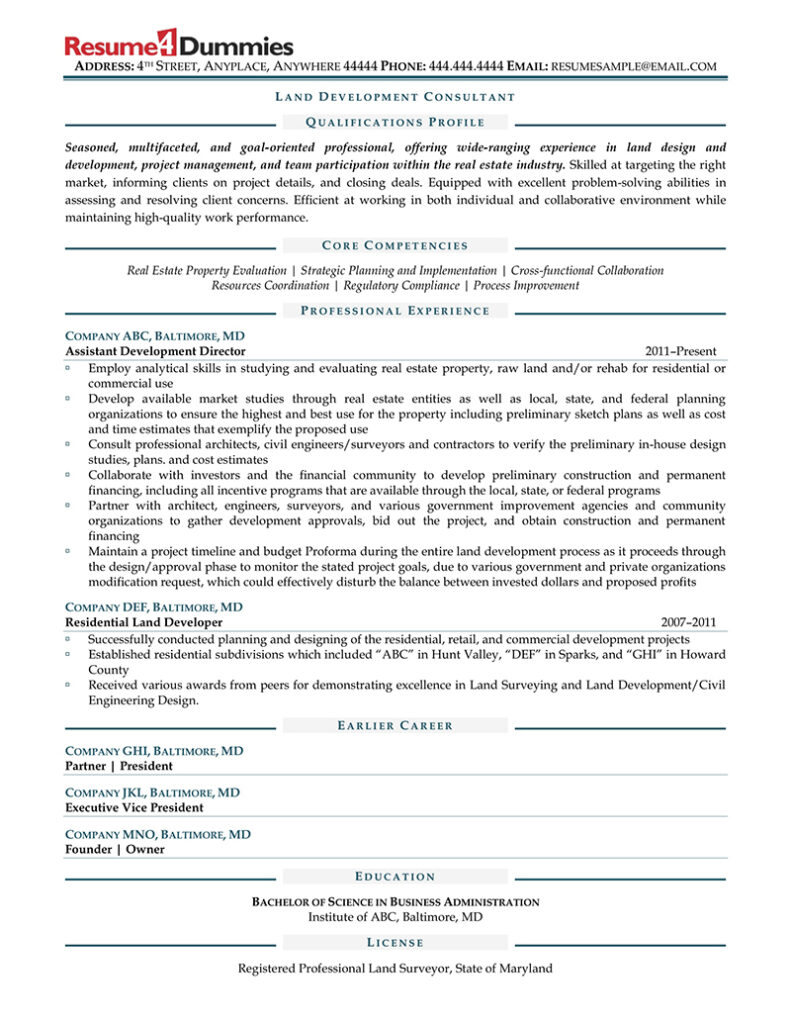 Download this land development consultant resume sample now.
Last Check on Your Land Development Consultant Resume
Before sending out your resume, do a final resume check through this list.
Make sure your resume contains your contact details.
Write a striking summary statement.
List your areas of expertise, skills, or core competencies to further prove why you're fit for the job.
Highlight your work history relevant to your target job.
Mention your achievements to serve as support for your work experiences.
It's a great role that needs persistence. Don't waste the chance of getting it! Write a resume that will help you get an interview. You can use this resume builder to help you with your tool. Also, if you're in need of an expert, hire our best resume writing service and we will help you receive callbacks.