In the retail industry, someone has to keep track of and lead the smooth flow of sales operations—a sales manager. From managing the sales team to ensuring the team meets the daily targets, they surely have a lot on their plate. So if you're aiming to land this position, secure a successful job hunt with an impressive resume. With that, review our strong sales manager resume examples and tips to guide you in writing yours.
What is a Sales Manager?
A sales manager is an important position in a business, especially in the advertising industry. Thus, the demand for sales experts is growing. In fact, despite the Coronavirus pandemic and its aftermath, the US Bureau of Labor Statistics (BLS) still maintains a projected 4% growth for sales manager jobs from 2019 to 2029, about as fast as the average for all jobs. This is expected to continue as retail firms and companies expand their business presence both physically and online.
What Does a Sales Manager Do?
Here are some of the top sales manager duties you'll perform once you land this post:
Meet sales goals and targets
Set individual sales targets with the team
Work with marketing on lead generation
Track sales goals
Report results for the sales targets
Oversee the activities and performance of the sales team
Train sales staff
With the responsibilities mentioned earlier, they are expected to be skilled. Here are some skills needed to be an effective sales manager:
Excellent communication skills. In sales, staff and managers need to deal with potential and current customers, clients, and suppliers every single day.
Sales planning. This skill is vital to sales managers who are tasked to develop sales strategies, policies, and goals for the team.
Process management. Leading a team and setting goals and targets effectively require this skill.
Market, brand, and product knowledge. For sales managers to properly implement strategies and set goals, they need to have these areas of knowledge.
Personal mastery skills. These are personal habits, qualities, traits, and values you can use on the job, such as diligence, personal ethics, and teamwork to name a few.
Sales Manager Salary
As per PayScale, the median sales manager's salary is $61,438, which is $61,438, which is at $15.80 per hour. Part of their job is to manage organizational sales by developing business plans. In turn, these plans help cover sales, revenue, and expense controls.
Effective Sales Manager Resume Tips
With all these in mind, how should you write your resume? Begin by checking resume samples and use them as your guide for the format, layout, and writing style you can apply to your own. Plus, you have to highlight why you're the best for the post. Emphasize the following qualifications:
Bachelor's degree in business or any related field
Experience in customer service
Years of experience in planning and implementing sales strategies
Ability to lead a sales team
Here are some more tips:
Striking introduction. For your resume to be powerful, write a sales manager resume summary statement instead of a resume objective. This makes your application stand out from the pile of resumes hiring staff and managers review every day.
Listed areas of expertise and skills. Aside from being a handy list of your sales manager skills, this section helps you optimize your resume for the applicant tracking system or ATS which most employers use to screen resumes.
Relevant professional experience. Detail your work history the way employers can pinpoint the relevance of your experiences to what the job position requires.
Emphasized achievements. Note your sales manager achievements as these help you stand out from the rest vying for the same job.
Sales Manager Resume Sample
Don't underestimate the power of using sales manager resume examples as your guide when you write your resume. Doing so makes you familiar with how strong one looks. Also, you'll see what makes one effective and apply these qualities as you write your own.
To further guide you, review the sales manager resume template below and see how you can make yours as powerful.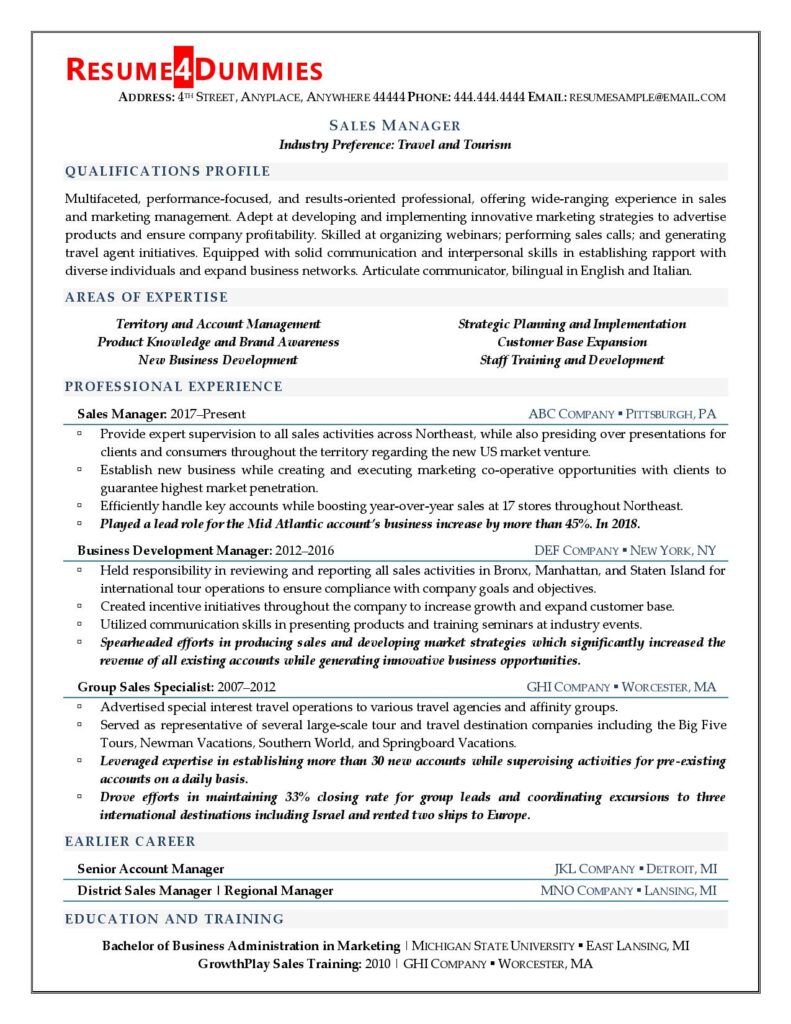 Last Check on Your Sales Manager Resume
Before sending out your resume, do a final resume check through this list.
Make sure your resume contains your contact details.
Leave out the sales manager's resume objective since it's obsolete. Instead, write a striking summary statement.
List your areas of expertise, skills, or core competencies to further prove why you're fit for the job.
Highlight your work history relevant to your target job.
Mention your achievements to serve as support for your work experiences.
With all these, keep in mind that it's not enough for you to have all the skills and qualifications needed to secure a job. All your hard work and efforts will be put to waste if you don't know how to craft your resume well. As you gear your focus on a higher-level job, you must apply all the resume writing tips to perfect your resume. Remember, the competition in today's job market has become fiercer, so you need to step your game several notches higher.
Finally, aside from sales manager resume examples, we also offer expert resume help! Skip the tedious process of writing your own resume and leave it to skilled writers. Choose from our resume writing services now or contact us today to know how we can help you with your job needs. Let's open more job opportunities for you today!